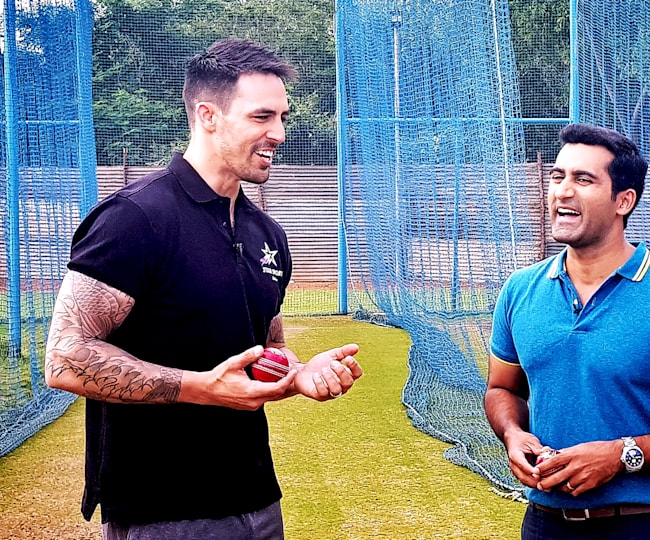 © Suhail Chandhok
What Mitchell Johnson told Suhail Chandhok about the 2013-14 Ashes
TV presenter and commentator Suhail Chandhok tells us about some of the most interesting conversations he has had with cricket legends. In this story, he writes about a chat with Mitchell Johnson.
I'm talking about bowlers who have scared the living daylights out of batsmen, ended a few careers with their bouncers, and delivered spells of bowling that are now part of cricketing folklore.
I had the privilege of being his partner-in-crime when he made his commentary debut at the Karnataka Premier League last year. I must say, avoiding his verbal bouncers were a lot easier than ducking his 150+ kmph deliveries would have been on the pitch.
But the amazing thing about Mitch is how his personality on the field is a complete contrast to when he has the ball in his hand. Our conversations would range from cars to our mutual love for motorsport and music. We'd also discuss the mental side of sport and life after the pressures of international cricket.
This is a man who took 12 five-wicket hauls and three 10-wicket match hauls among 313 Test wickets. And of course, the most notable of his wickets were the 37 which came during the spell-binding five-Test 2013-14 Ashes series vs England.
I've watched a lot of cricket over the last 30 years, but Mitch's performance in that series had to be one of the most dominant individual displays by a fast bowler in a Test series. I mean, if you think about it, he destroyed England's batting line-up – and a couple of players' careers while he was at it – and spearheaded Australia to a 5-0 whitewash.
This is the same man who was taunted by the Barmy Army during the 2010-11 Ashes for his wayward bowling with the chant, "He bowls to the left, he bowls to the right, that Mitchell Johnson, his bowling is sh*te."
Leading up the 2013 Ashes, he spent eight months away from the game, preparing for the series.
On one of our car rides to the stadium in Mysore, I asked him how he had felt going into the series.
With half a smile, Mitch replied, "I just felt I was in a better place mentally coming into that series, but I remember being so prepared and still feeling so damn nervy ahead of my first delivery of the series. That first over felt strong. I knew I was bowling quick, and then things just felt right. That series just felt like I knew what I wanted to do with the ball in hand to each batsman, and I was just in the zone where my body took over."
That first over of the series was to Michael Carberry (whose confidence Mitchell would go on to destroy through the series, along with several others). Mitchell's very first delivery was at 144kpmh, and the sixth ball of the over was 146kpmh. And with these speeds, he was just getting started.
He tormented the English batsmen by battering deliveries perfectly targeted at their ribcage.
After outsmarting Jonathan Trott in that innings before lunch, his dismissals of Michael Carberry, Joe Root and Graeme Swann in successive overs sparked a collapse England never recovered from. He then followed it up with a hostile spell of five for 16 in five overs in Adelaide to leave England in a state of bewilderment all summer long.
At the end of the series, he had picked up 37 wickets, three Man of the Match awards, and the Man of the Series award. Not to mention, he scarred a few batsmen for whatever remained of their careers. Jonathan Trott pulled out of the rest of the series citing stress-related illness and Graeme Swann called time on his career, while Michael Carberry and Kevin Pietersen were never seen in Test whites again.
I couldn't have asked for a better gym buddy through the KPL (even though working out three feet away from him made me feel like I was lifting kiddie weights while he piled on full racks).
He had retired by the time we were commentating in Karnataka together, but his insights into training and a fast bowler's mentality are golden words for every young fast bowler today.
"When you're a fast bowler, you've got to think like a fast bowler in the gym too. It's not about lifting the big weights to look good but about the power and speed to activate and engage the most important fast-twitch fibres [of the muscle in your bowling arm] that work when you then want to up the pace given the short bursts of power. It helps to be born with a high ratio of it, but explosive movements actually help train and develop the fast-twitch fibres further," Mitchel told me before he put his headphones back on and went into the third set of his deadlifts with seemingly every weight plate that was available.
Hostility and fear are two words that come to mind with Mitchell's on-field persona, but the man couldn't be a more polar opposite off it. He is extremely well-spoken, shies away from crowds, and was extremely polite to every member of the gym that took small steps in fear as they asked for a selfie.
Perhaps everyone remembers him as the man that twice broke the hand of South Africa's toughest skipper, Graeme Smith, in the span of two months, as well as dismantling the Proteas' batting line-up during a devastating spell in 2008-09.
Batsmen around the world let out a sigh of relief when Mitchell announced his retirement from international cricket.