Watch Inside Story: A Season with Rajasthan Royals
© Rajasthan Royals
The three episodes of the documentary series follow Rajasthan Royals through the 2019 season. Watch the episodes below and download the Red Bull TV app for the best experience.
Episode 1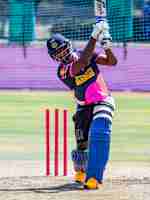 An in-depth look at the coaches and management of the Rajasthan Royals team that work behind the scenes to try to guarantee victories on the field. Unfortunately, the first three matches of the season prove a different spin.
Episode 2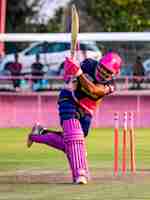 Victories and partnerships
After opening the season with three tough games, Rajasthan Royals bounce back with a big victory. Unfortunately, some inconsistencies mean that results don't always go their way. But the management sees hope in the partnership with Red Bull Campus Cricket as they look to unearth India's next cricket superstar.
Episode 3
At the business end of the season – with qualification to the playoffs in the balance – the Rajasthan Royals pull up their socks. They are determined to not to give up. Unfortunately, a crunch tie might be beyond their grasp because of external factors that threaten to rain on their parade.
Download the free Red Bull TV app and catch the cricket action on all your devices!
Get the app here
About Rajasthan Royals
Rajasthan Royals are one of the leading cricketing teams in India.
They won the inaugural edition of the Indian Premier League and have been represented by celebrated players like Rahul Dravid, Shane Warne, Shane Watson, Kane Richardson, Mohammad Kaif, Steve Smith, Ajinkya Rahane, and others.
For the first time ever, they opened out the doors to their stadium, training academies, boardrooms, tech hubs, and more, to give Red Bull Media House an exclusive chance to film a documentary detailing their journey through the 2019 season. That opportunity produced a unique documentary series that looks into how a cricketing franchise is run, but in truth it is much more than that.
'Inside Story: A Season with Rajasthan Royals' is a three-part documentary series about a team that keeps coming back despite the toughest of situations, time and time again.