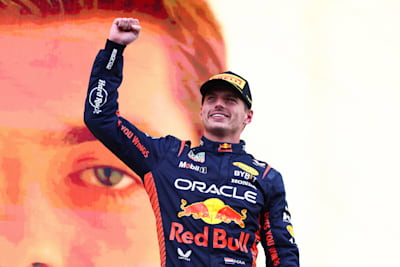 © Mark Thompson/Getty Images/Red Bull Content Pool
This is Max Verstappen's racing journey by the numbers
With victory at the Italian Grand Prix, Max Verstappen set a new record for the most consecutive wins in F1, as he triumphed for a 10th time in a row. Let's have a look at his record-breaking career.
Two-time F1 world champion
Max Verstappen
has been rewriting F1 history from the moment he stepped into the paddock as a 17-year-old and the hottest property in motorsport. Since then, he's gone to set new records as the talent of his generation. Let's run through the Formula One records set by Max Verstappen:
01
Youngest driver to take part in an F1 race weekend
Location: 2014 Japanese Grand Prix
With the ink barely dry on his
Red Bull Junior Team
contract, Verstappen made his F1 debut with Toro Rosso – now
Scuderia AlphaTauri
– replacing Jean-Éric Vergne to drive in Free Practice at Suzuka on the first day of the Japanese Grand Prix. The oldest F1 driver of all time is Louis Chiron, who was 55 years and 291 days when he raced in the 1955 Monaco Grand Prix, so Max has almost exactly 30 years to go if he wants to break this one.
02
Youngest driver to race in F1
Location: 2015 Australian Grand Prix
As half of an exciting new pairing at Toro Rosso with Carlos Sainz, Verstappen made his F1 debut at Albert Park in Melbourne, becoming the youngest driver to have ever lined-up on the F1 grid. He was almost two years younger than Jaime Alguesuari had been when he set the previous record. What's more, the record will stand in perpetuity because the minimum age to race in F1 is now 18-years-old.
Verstappen made an excellent debut on the street circuit, qualifying 11th and even running in the points before suffering an engine failure. He didn't have to wait long for another try.
03
Youngest driver to score points in F1
Location: 2015 Malaysian Grand Prix
Two weeks later, Verstappen qualified in sixth place at Sepang, behind Red Bull Racing's Daniil Kvyat (P5) and
Daniel Ricciardo
(P4), becoming the youngest driver to reach Q3. He went on to finish seventh, but ahead of both Red Bulls and his team-mate. He was now also the youngest driver to finish an F1 Grand Prix. On the podium, Sebastian Vettel celebrated his first win for Ferrari.
04
Youngest F1 race winner
Location: 2016 Spanish Grand Prix
On May 15, 2016, Max set a handful of records in F1, becoming the youngest driver to lead a race and, about an hour later, the youngest-ever race winner and youngest driver to stand on an F1 podium – not a bad day's work.
It's easy to overlook that Verstappen had swapped teams, replacing the under-pressure Daniil Kvyat and taking the start in a totally unfamiliar car. While both front-running Mercedes cars were out of the race, he still had to take the lead and hold off two charging Ferraris on his way to the finish line. The previous record holder, Sebastian Vettel, was the first to congratulate him on the podium.
05
Youngest driver to set a fastest lap
Location: 2016 Brazilian Grand Prix
06
Youngest driver to score an F1 grand slam
Location: 2021 Austrian Grand Prix
With his first realistic chance of a F1 world championship title in his sights, Verstappen arrived in Spielberg, Austria, for a double-header at the Red Bull Ring. Having won the Styrian Grand Prix the previous weekend, he produced his most dominant performance to date and set a Grand Slam – or Grand Chelem – by taking pole, fastest lap and victory while leading every lap of the race.

1 min
Max Makes It A Double!
Congratulations to our two-time World Champ!
07
Most podium finishes in an F1 season
Location: 2021 Abu Dhabi Grand Prix

Previous record: 17 (Michael Schumacher 2002 and Sebastian Vettel 2013)
As Verstappen claimed his first world championship in the high drama of Abu Dhabi, perhaps one other feat went a little unnoticed amid the fireworks. He set a new record for podiums in a single F1 season. It was a measure of his superb consistency, which was key to his overcoming Lewis Hamilton. Verstappen came out on top thanks to 10 wins and eight second places, no third places.
08
Most World Championship points in a season
Location: 2022 Mexico City Grand Prix

Previous record: 413 points (Lewis Hamilton, 2019)
After winning his first world title, the floodgates were open. In 2022, Verstappen strung together victory after victory to wrap up his second F1 title in Japan – four races before the end of the season. By then, he'd already broken Lewis Hamilton's record for most points in an F1 season with a comfortable win at the Hermanos Rodriguez Circuit in Mexico City – more of that later. He's already made a better start to this season, so expect Max to move the needle on this record soon.
09
Most wins in an F1 season
Location: 2022 Mexico City Grand Prix

Previous record: 13 (Michael Schumacher 2004 and Sebastian Vettel 2013)
That same weekend, Max Verstappen set another record , claiming the most wins in a single F1 campaign, moving one clear of Michael Schumacher and Sebastian Vettel. While it won't be on his mind in 2023, this one is also in the champion's cross hairs.
10
Most consecutive race wins
Location: 2023 Italian Grand Prix

Previous record holder: 9 (Sebastian Vettel 2013)
Having matched the record of nine wins in the pouring rain at his home Grand Prix in Zandvoort, Verstappen went one better with victory at Monza, Italy. It was his 10th race win in a row in a winning streak that shows no signs of ending. He's in the form of his career now and racing in the ultra-fast and super reliable RB19. It would be unwise to bet against him raising the bar further in Singapore shortly.