Five things you need to know about Jack Miller
© GEPA/Gold & Goose
He's going straight to MotoGP in 2015 – you're in for a hell of a ride with the charismatic Aussie!
It's official:
Jack Miller
is heading to
MotoGP
next year to test his skills at the highest level.
After much speculation, plenty of media excitement, and some serious work behind the scenes, the current Moto3 championship leader was this week confirmed as the second rider for the CWM LCR Honda Team for 2015.
Miller will ride a Honda RC213V-RS 'Open Specification' bike, as he gets to grips with the demands of his rookie season in the premier class, bypassing Moto2 to go straight to the top.
The 19-year-old's progress over the past couple of years has been incredible and the result of mountains of hard work, combined with raw talent.
RedBull.com
gives you the skinny on Miller with five key pointers...
He's an off roader at heart
Miller started out riding dirt-track and motocross back in Australia, and was a four-time national champion dirt-tracker.
I was hitting trees on the farm long before I started [road] racing. I give everything 110 percent all the time, so that meant that in motocross especially I landed on my head a lot!
He grew up idolising fellow Australian
Chad Reed
, and turned to road racing to try something new during his teenage years.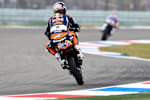 He's a bit of a lad!
Charisma seems too boring a word to describe Miller's personality. He says it how he sees it, he loves a laugh, and he enjoys every minute of what he does. A consummate professional too, Miller seems to strike a balance naturally that many riders spend a lot of time trying to figure out.
He also has a mischievous side, which he developed as a youngster and has managed to maintain despite the serious world he inhabits. An example of his cheeky side was when he was banned by his parents from riding in a motocross race as a kid:
I wasn't allowed to do the first race because mum and dad got us a babysitter while they went away for a week. I managed to talk the babysitter into letting me drain the pool and turn it into a skate park!
There is more than just a passing resemblance to Casey Stoner
It might seem like a clichéd comparison to make: talented young Australian, very fast, and destined for the top. The parallels run deeper though.
Like Stoner, Miller grew up riding dirt bikes on the family cattle ranch (Stoner grew up on a farm) on the Queensland coast. Both moved to Europe at a young age – Miller at 15, Stoner at 14 – to pursue their racing dreams. Both have families who've made big sacrifices to help them achieve their ambitions.
When Miller finally rides the Honda in Qatar for the first round of next season both riders will have debuted in MotoGP with the LCR team.
Miller is also set to have Italian
Cristian Gabarrini
as his crew chief, who was Stoner's from 2007 through to his retirement in 2012.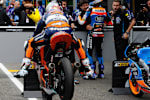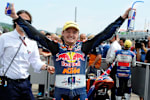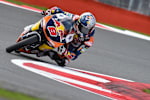 The road has been long and hard
Miller has had to fight hard to make it to the top. There have been plenty of testing times along the way and by the age of 14 he'd already broken 27 bones.
Miller almost walked away from the World Championship in 2012 after a tough year and there were some huge sacrifices made by his family to help him continue racing. It's all made the realisation of his MotoGP dream taste even sweeter.
It has been a real battle to get here, with a lot of blood, sweat and tears and a lot of risk has been taken on behalf of my parents – mortgage on the house and everything like that.
Jack has a rocking taste in music!
He listens to AC/DC on the starting grid, and...
I like the rock and roll lifestyle too, so I look up to guys like Lemmy from Motorhead. Real hardcore rock guys that just live it hard.
For more Red Bull Motorsports action, follow
@redbullmotors
on Twitter.