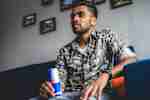 How Brandon Fernandes became the brightest rising star of Indian football
© Rohit Khetle
Pulasta Dhar speaks with the Goan midfielder to understand how he survived setbacks and changed his plans to become one of the most important cogs of the national team.
When Brandon Fernandes stood over the ball for a freekick against Oman in India's first World Cup 2022 qualifying match in September, the easy option from the acute angle would be to go for goal or send a soaring delivery towards the towering centre-backs Sandesh Jhingan and Adil Khan.
Instead, the Goan attacking midfielder expertly played a low ball into the tiny window of space and opportunity in which Sunil Chhetri would dupe the entire opposition defence line and run in and score.
It was almost a given that Guwahati was treated to a brilliantly practised set-piece routine. The truth, however, is quite the opposite – India had never tried this trick in training. It was a unique moment of creativity from Chhetri – whose legacy has already been sealed, and Brandon – who was making only his third appearance for the national side.
"Sunil bhai told me he would stand at the far post and alerted me to the space available in front of the defence line. Our other players were all bunched near their keeper, so the area near the penalty spot was free. I saw it, gave Chhetri the thumbs up, and he knew I would pass the ball there. He made the perfect run, and it worked. It was all in the moment," he said.
In that moment, Brandon must have thought of all the good things that got him there – his touch, his weight of pass, his vision, and of the eventful journey so far – winning best player award at the Manchester United Premier Cup in 2008, the early technical promise that got him into India's U14, U17, and U19 teams, lessons during the two-year stint at ASD Capetown, the many trials in England with Reading, Sunderland, and Leicester, and a club career in Indian football, which has taken him from Mumbai City to Mohun Bagan and, finally, to a club which he can call home literally and figuratively in FC Goa.
But it wasn't just winning the race against other players in what is a highly competitive and ruthless sport that eventually led to Brandon being chosen as the player good enough to deliver an assist of such quality – he also had to conquer the mental battle within himself to finally making the cut for India.
Return to playing in India
In 2013, at just 18, he had boldly declared that he would not play club football in India. After all, Brandon was getting trials at some top clubs. But he couldn't escape the twist of fate – every positive bit of news was followed by an event he could not control.
The aptest example would be at Sunderland, where the then manager Martin O'Neill was sacked along with the entire staff after Brandon had impressed the highly successful Northern Irishman.
"My whole aim was to play in Europe. Coming back to India wasn't a decision I wanted to take. But it didn't happen for me. Things got difficult for me, and while there was an opportunity to play in the 2nd division in South Africa, I wanted to aim higher," said Brandon, during a recent meeting for a shoot in Mumbai in October 2019.
Luck seemed to not favour him during his important, formative years.
"During a trial in Scotland, I got injured so I told myself I'd go back to Goa, get fit again, and then renew this cycle of trying out for clubs. I waited and waited, but I can't do that forever, so when Sporting Goa came calling, I took the chance," he continued.
"I had a fine season, and I just took playing in India as another start for me and put my initial plans at the back of my head."
Playing in India was not the ideal scenario for a Goan footballer who had dreams of playing with the stars, but Brandon took it on as it came.
"Of course, I had to lower my expectations from myself because I always saw myself playing in Europe, but I convinced myself that I have to become a professional football player at least. This phase was surely difficult for me," he said, this time with a certain maturity that has replaced the brazenness that can accompany a confident and rising teenager.
Benefitting from new systems
While he might have made stronger statements in the past, Brandon was clever enough now not to let youthful exuberance come in the way of what was always supposed to be a good career. Unlike a lot of modern-day footballers with bulging biceps in ultra slim-fit jerseys, he wore a comfortably fitting printed shirt on the day of the interview.
Brandon's appearance hardly compliments the fact that he can run 10kms in every game and go shoulder-to-shoulder with marauding full-backs.
Instead, he is the archetype of a player that would interest someone who has seen Barcelona's Xavi and Andres Iniesta play – lithe and light, yet intelligent and cunning on the ball. It is no surprise then that he has thrived under Sergio Lobera at FC Goa, the Spaniard having a pedigree of coaching at Barcelona's famous La Masia academy.
"Just like at ASD Capetown, the emphasis at FC Goa is on ball work and technique. The playing style is possession heavy, and that is a philosophy that suits me. I play as a winger on the left, but I have the freedom of coming inside where I operate best," he said.
Brandon was part of a team which made 11,156 passes in the Indian Super League last season, which is 2,000 more than the next best passing team Northeast United.
Brandon scored three goals and supplied assists before being considered for team India, but only after Stephen Constantine was replaced by Croatian Igor Stimac, who seems to prefer a more modern approach to football compared to the Englishman's direct system.
"While it's a great time for young Indian playmakers, one cannot get away with only being good on the ball. You have to think about two or three situations before making a pass. You have to time it well and be accurate. And of course, you need a lot of game time to read these situations and play that position, which is now happening in Indian football," Brandon adds.
While he makes all this look easy, he struggled early on with his physicality – especially during his trails for clubs in England – including vitamin C and D deficiencies. But as with every other successful career, his discipline with diet and lifestyle paid off.
At 25 years of age, Brandon Fernandes has come through the grind, the disappointments, the challenges and the weight of great expectations – exemplifying the immense hard work that comes before the simplicity of that one perfect pass that makes all the difference.
India will surely hope it is just the first of many.