Watch: How the riders viewed Red Bull FMX Jam Mumbai
© Ali Bharmal | Red Bull Content Pool
Three videos from the riders' point of view give you an idea of what it felt like to soar through the air, performing stunts at the Gateway of India in Mumbai.
Freestyle motocross (FMX) is an exciting variation of motocross in which riders perform stunts and tricks while flying through the air on their massive off-road bikes.
Red Bull FMX Jam
is one of the world's premium acrobatic events in which the best FMX riders put on a show, enthralling audiences around the world.
In February 2019, six of the world's best FMX riders visited India to put on a once-in-a-lifetime show against the backdrop of Mumbai's most famed landmark, the Gateway of India.
Watch the action through the eyes of Alexey, Julien and Martin in the videos below.
Alexey Kolesnikov
The Russian is famed for his backflips having been the first person to perform one in his country. Alexey Kolesnikov's longest backflip has been 35 metres, a personal best that he wants to extend soon. His first taste of international FMX fame came when Red Bull X-Fighters touched down at Slane Castle, Ireland, in 2007. Since then, he has gone on to become a founder of the FMX scene in Russia.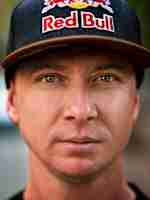 Alexey Kolesnikov POV at Gateway of India
Julien Vanstippen
Relatively new to the world of FMX, Julien Vanstippen was actually one of the fastest two-wheel racers in Belgium. In 2010, he was second in the Belgium Championships and was winner of the "Joel Robert Trophey". In 2013, he was the winner of Coupe de l'Avenir, an international motocross championship for riders under the age of 21. In 2016, Julien decided to swap the dirt for the skies when he took up FMX as his main sport.
Julien Vanstippen POV at Gateway of India
Martin Koren
Having started in the sport in 2003, Martin Koren now has over 300 FMX events to his credit. He has competed in the FIM World Championships, winning a silver medal in freestyle motocross. He has also participated in Red Bull X-Fighters. He has been campaigning for progression and competition of FMX in Czech Republic. He is part of FMX4Ever and serves as the company's director for the Cirque MotoX project.
Martin Koren POV video at Gateway of India
Be sure to download the free Red Bull TV app and catch all the motorsports action on all your devices! Get the app
here
.