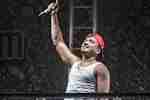 Story behind the song: 'Mirchi' by DIVINE, MC Altaf, Phenom, Stylo G
© Ali Bharmal | Red Bull Content Pool
Mumbai hip-hop star DIVINE talks about how his new party anthem crossed paths to include a young MC Altaf, rapper-producer Phenom and UK dancehall artist Stylo G.
He came to Bombay in June/July and I took him to the studio. He played me a couple of beats and this was in there as a scratch on his computer. It was sounding like a beatbox thing at the time. I'm a guy who would never choose that beat if I was sitting at home. Because it was the studio and he played that, I was in the zone. I went to the mic and sang that hook in one go. It came out very nice and he was like, "Sing it again." I sang it twice and I had the hook ready.
We were playing it on the speaker and I was later playing it to my friends. I have about 10 friends that I would play my rough songs to just get a reaction to what they think. You know the word, 'Mirchi' is like there in all our lives. We all know what mirchi is.
It's a very expressive thing, we have it on our plate or maybe even somewhere else. It was so catchy! When I came back home and played it to my friends, they were like, "Bro, this is a banger, 100 per cent." Then I was thinking about how
MC Altaf
would sound the best on this song because his flow and the way he writes; he's very cheeky. He's very much the next generation of Bombay rap. I wanted to put him on the track because of that. I called him to the studio and made him hear it. He said, "Bhai, I love this track, let me get on it."
He put his verse on.
Stylo G
connected because I'm on Reservoir [Music Publishing], my publisher. When my manager asked me for names of whom I wanted on this track, his was the name that came to my head first, because I knew he would kill the track. We sent him the track – he never even knew me when we sent it – and he was blown when he heard it. His was the verse that connected it.
For Pinaki's verse, I wrote it and he was there with me. I needed a bridge for this song and I wrote the rhymes for him and yeah, he was fabulous on the track. His voice sounds so good on the track. It all came together and we had like 60 mixes of the track. We had to get it together for a long time because it's a club banger, you can't get it wrong.
There's a small, fine line between a banger and a track that is going to be a banger so you have to get it right. If you go see pop culture and pop songs around us, if they go off, they go off fully. I think we did that, it went off.
I wanted to do something like that, something that was flirty. I feel like that's where the audience changes for me. I feel like we should, as artists, be open to making songs that will attract more people to this genre. I should not be in a box and I've never been in a box anyway.