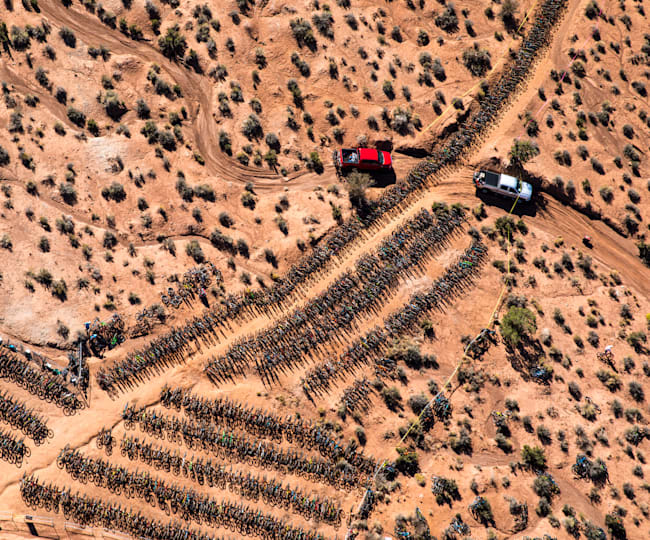 © Christian Pondella/Red Bull Content Pool
10 top electric motocross bikes to look into
Electric motocross bikes are becoming a more prevalent part of the sport. Learn about the top 10 e-dirt bikes on the market.
Gone are the days of inhaling exhaust when you rip up the trails on your motocross bike. As
electric motocross bikes
(also called e-dirt bikes) grow in popularity, more companies are starting to produce them. These motocross bikes are battery-powered and designed for rough terrain. Adventurous riders still get all the fun of a regular motocross bike while enjoying a more eco-friendly alternative. These bikes run on pure electricity, so you can charge them up and start hitting the trails.
10 Awesome Electric Motocross Bikes
Turn heads when you pull up in one of these cutting-edge electric motocross bikes. You can take them off-roading just like any other dirt bike while enjoying the
benefits an electric powertrain
has to offer, such as:
If you're considering switching to the electric side, check out these electric motocross bikes first:
The
KTM Freeride E-XC
is a top electric motocross bike. It comes with a lithium-ion KTM PowerPack that is easy to remove. Buying an extra battery makes it possible to keep riding all day long. Ride it in competitions or take it on your favorite off-roading trails. Although it has low horsepower, this baby can produce an exceptional 42 nm of torque. This bike is great for professionals, as it has an impressive ergonomic design, lightweight frame, and easy-to-operate handlebar.
Battery life: 1.5-3 hours
2. Alta Motors Redshift MX
Alta Motors once built some of the best e-dirt bikes in the industry, which is why your jaw is sure to drop when you see the Redshift MX. This bike is equipped with a powerful lithium-ion battery pack, a clutchless transmission, and a lightweight frame. This bike is intended for professional riders, and you can definitely compete against other 250cc bikes. It may come with a hefty price tag, but its impressive power and handling capabilities make it worth the extra splurge. Although Alta Motors no longer makes electric motocross bikes, it's worth looking for a used one.
The
Cake Kalk&
is the very first street legal electric motorcycle offered by the brand. You can comfortably ride this European-inspired e-dirt bike on and off the road. Its powerful battery can satisfy your need for speed and also lasts an impressive 54 miles per single charge. Due to its outrageous price tag, it's an ideal bike for a dedicated hobbyist rather than a beginner, although it handles quite well.
Wow the crowd with the
Zero FX
, a sport-based electric dirt bike. You can crank this bike up to 85 miles per hour, giving more advanced riders a true adrenaline rush. Switch between its Eco and Sport modes to get an optimal ride. You can even fine-tune your ride with the Zero Motorcycles mobile app. Although it has one of the longest charge times, it's well worth it when you get a range of 91 miles, 46 horsepower, and 78 pound-feet of torque.
Battery life: 91 miles per charge

Weight: 246.9-293.2 pounds
5. Electric Motion Escape
The
Electric Motion Escape
is considered a trials bike, but it makes an awesome off-road bike, too. The brand new model handles well, making it a good bike for all skill levels. Choose from three different power maps to find the right amount of capability for you. You may not be able to use this in an actual race, but you'll have a blast exploring your favorite trails.
Battery life: 37 miles per charge
If you're looking for a beginner bike for your kid, the
Kuberg Cross Hero
is an excellent choice. This little bike can support up to 220 pounds, which can easily follow them into their middle school years (heck, even you could take it for a spin). Its measly 17 mph maximum won't let them hit the race tracks, but it's an excellent speed for kids just getting their bearings.
When it's time to graduate from the Cross Hero, teen and adult riders can upgrade to the
FreeRider
. Its high-quality front forks and rear shock make for a comfortable ride that's well suited for beginners. One major perk is that you can choose from three different tire sizes. It may not be the fastest bike on the market, but it's perfect for casual riders.
You're not going to win any races on this thing, but a
Bultaco Brinco R
is a great pick if you're looking for a hybrid of a dirt bike and a mountain bike. It offers a lot of power, so riders need some experience in order to properly control this ride. One drawback is that it's not street legal, but you can have plenty of fun on private tracks and trails.
Battery life: 60 miles per charge
A truly entry-level dirt bike for aspiring motocross racers is the MotoTec 24 V. This fun-size bike is ideal for children and a great way to introduce them to riding without breaking the bank. Its disc brakes offer plenty of stopping power, and its full suspension gives them a comfortable ride. This bike may not be able to keep up with the real-deal e-dirt bikes, but it can get them ready to ride with you one day.
Sur-Ron makes an excellent dirt bike for adults that riders of all levels can learn to handle. While in sport mode,
the MX
uses regenerative coasting to recharge the battery as you let off the throttle. Prior to any modifications, the road legal version only goes 20 mph, making it difficult to ride anywhere. Its mid-range speeds make it more of a hobby bike rather than a competitive one.
Battery life: 62 miles per charge