10 top moments from the 2023 League of Legends World Championship
After an exciting series of matches, the League of Legends World Championship 2023 concluded with many stand-out moments. Here are our favourite results and highlights from the tournament.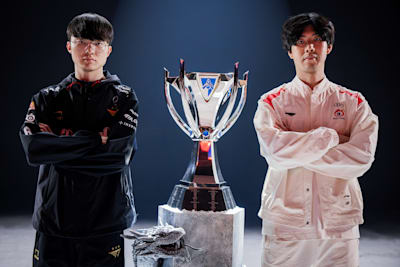 © Colin Young-Wolff/Riot Games
The League of Legends World Championship brings together all the top teams from across Asia, Europe and the Americas. The international tournament draws in viewers in the hundreds of thousands to see players at the peak of the esport compete for the prestigious Summoner's Cup.
This year's tournament was held in South Korea, with the grand final taking place at the Gocheok Sky Dome baseball stadium.
Here, T1's legendary star player Lee 'Faker' Sang-hyeok competed in Worlds on home turf for the first time against the mighty Weibo Gaming, completing an incredible year filled with ups and downs, including a comeback from injury.
Before these two titans met, fans were treated to a series of intense matches in a new Swiss format.
01
T1 trounces Team Liquid
This year, the traditional group stage format was replaced with a new Swiss stage, which matched up teams based on their win/loss record. Here, fans got to see T1 in action for the first time in the tournament, where they defeated League of Legends Champion Series' Team Liquid. Faker and company took some time to find their feet in this first match, as the Americans put in a surprisingly strong performance. An incredible team fight managed to turn the tide for T1, however, as Lee 'Gumayusi' Min-hyeong took a double kill.
02
Cloud9 and G2 Esports give it their all in the Swiss stage
Cloud9 also got off to a flying start in the Swiss stage, taking down Europe's MAD Lions, but couldn't sustain this success for long, falling to LNG Esports and Europe's Fnatic in the later rounds. Cloud9 also met T1 in Groups, where they would face another defeat at the hands of South Korea's finest. T1 dominated the fixture, storming ahead to an insurmountable 6,000 gold lead and ending the game in the shortest time in the Swiss stage at 22:25. This defeat spelt the end of Cloud9's Worlds campaign as T1 proceeded to the knockouts.
The campaign of League of Legends European Championship winners G2 Esports ended in the Swiss stage, suffering defeat at the hands of North American squad NRG. NA's Juan Arturo 'Contractz' Garcia showed his quality in this match-up, wreaking havoc using Jarvan. G2's campaign wasn't without its highlights, however, including a stunning Neeko play from Rasmus 'Caps' Winther which saw him wreck BLG's Yagao in a vicious 1v1.
03
An LPL dark horse emerges
Chinese team LNG Esports emerged as a possible favourite here, finishing top three with wins over Fnatic, Cloud9 and KT Rolster. Lee 'Scout' Ye-chan and Chen 'GALA' Wei formed an unstoppable duo, revealing the extent of their powers against KT Rolster, punishing their opponents in a stand-out jungle team fight.
The top spot came down to a tie between China's JD Gaming and Gen.G. South Korea's own Gen.G put in an almost flawless three-match run, beating GAM Esports, T1 and G2 Esports. JDG left Team BDS, Billibi Gaming and LNG in their dust as they won their three required matches to make it to the quarter-finals.
With eight teams remaining, the format switched to best-of-five. The quarter-finals saw Gen.G, NRG, KT Roster and LNG sent home, as Bilibili Gaming, Weibo Gaming, JD Gaming and T1 emerged victorious and proceeded to the semi-finals.
05
Weibo Gaming's TheShy shines
Weibo Gaming managed to get the upper hand over fellow League of Legends Pro League contenders Bilibili Gaming in their semi-final battle, thanks in part to the super stylings of Kang 'TheShy' Seung-lok, who managed a stunning double kill on Luo 'ON' Wen-Jun and Zeng 'Yagao' Qi to turn around a struggling match for the rival team. The two teams traded wins before the series came down to a thrilling fifth game, which ended with an incredible team fight in the mid-lane in WBG's favour, locking in their place in the grand finals.
06
T1 settles the score with JD Gaming
After being eliminated from the Mid-Season Invitational earlier in the year by the Chinese representatives, T1 had something to prove against JD Gaming. T1 put their opponents on the back foot from Game 1, with some non-meta picks that their opponents struggled to deal with. After a dominant performance in Game 1, JDG responded, winning Game 2, albeit closely, hanging on with some late-game scaling.
Game 3 was an even-handed affair, until Faker broke through with a huge ultimate flash that allowed T1 to take the lead. The South Korean representatives ended the series in Game 4, with a 31-minute victory. Min-seok 'Keria' Ryu took the MVP gong for this series, owing to his tactical deployment of ultimates during big team fights.
As we entered the final stage of the tournament, fans were eager to find out if it would be a fourth title for T1, or would Weibo Gaming claim their first? Fans gathered at Seoul's Sky Dome to watch the final unfold, with a record-breaking six million viewers tuning in at home. It all came down to this.
The energy was electric in the dome throughout the opening ceremony, but players and fans alike could hardly wait to see the outcome of the match-up that they had been building up to for weeks. T1 continued to play their own game, locking in the off-meta pick Yone for Choi 'Zeus' Woo-je for Game 1. WBG's Kang 'TheShy' Seung-lok opted for Aatrox, with Senna and Tahm Kench in the bot lane.
The teams were evenly matched in their first game up until a team fight broke out 18 minutes in. Ryu 'Keria' Min-seok's swung the odds in T1's favor when he initiated Hostile Takeover, leaving Faker and Zeus to swoop in and pick up the kills. With the Baron now won, T1 had a strong lead, which was secured at 28 minutes as they won the second Baron.
09
T1 surprise with off-meta draft
T1 were even more dominant in Game 2, with rogue picks Draven, Nocturne and Gwen taking WBG by surprise. The South Koreans' efficiency was unmatched in this game, as they removed each of WBG's players with surgical precision. Soon, T1 had scaled to the point where victory was certain, leaving just one more win between them and the trophy.
For the final bout, WBG switched up their draft, adding Azir, Bard and Kennen. This refreshed roster proved effective for WBG to start, allowing them to stay on an even par with T1's kills for the early game. But ultimately, they were no match for the vicious power of the Faker. Playing Akali, the unkillable demon king scored a huge triple kill, allowing the team to snowball and end the game in just 25 minutes.
It was a triumphant finish for the star player, who had attended eight Worlds tournaments and finally won it on his home turf. Their fourth Worlds win was a huge moment for T1 as a whole, with Zeus taking the title of MVP for the final match. Already recognised as one of the best, if not the best, League of Legends team in the world, it's another page added in T1's glorious success story.
While the League of Legends season has ended with the conclusion of the World Championship, you can still see newly crowned World champions T1 and other world-class teams compete in
Red Bull League of Its Own
. This unique tournament will pit T1 against multiple European teams in Berlin's prestigious Velodrom. You can catch all the action live on Twitch and YouTube on December 9.