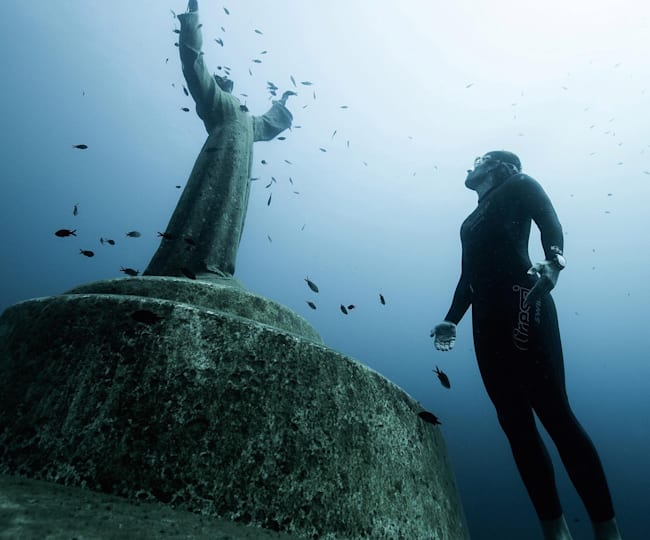 © Julie Gautier
The world's most amazing places to freedive
Take a deep breath, grab your fins and dive into sunken planes, blue holes and even under the ice.
Freediving is where meditation meets endurance. You must quiet the mind before entering a world that asks you not to breathe. But if you can clear that hurdle, then prepare to be amazed. Here, you can swim alongside orcas, mantas and sharks, explore shipwrecks and find the limits of your inner strength.
Most unlikely freediving destination
Where:
Oil rigs in the Gulf of Mexico
Why
: Incredible spearfishing
"Every structure in the ocean is a magnet for life," says D.J. Struntz, staff photographer for Riffe International. "Find a floating tree and the amount of life under it seeking shelter is immense, as is the number of fish hunting those fish."
Oil rigs in the Gulf of Mexico, with their labyrinth of support beams, are breeding grounds for life – and freediver hazards. "It takes a special breed to be comfortable in this setting," says Struntz, who has stood up to tiger sharks. "It's not a place for your average person to visit."
Most accessible diving attraction
Where:
Christ of the Abyss statue off the Italian Riviera, Portofino
Why:
To pay tribute to a sport and the sea that makes it possible
The waters are hallowed: The Christ of the Abyss statue honors Dario Gonzatti, the first Italian who, in 1947, lost his life scuba diving. Since then, the figure has come to also represent all lives claimed by the sea.
"It's really impressive to be in front of it," says Guillaume Nery, above. "You can see it from the surface and it's only at 10-15m max so it's something anyone can dive to."
Best wreck for warm water lovers
Where:
Kuda Giri wreck, South Male Atoll, Maldives
Why:
Your friends can actually be in the water to share the experience
"It's like a little ghost town," says Alex Voyer, freediving instructor of eight years, of Kuda Giri, an upright wreck 31m deep off the South Male Atoll in the Maldives. "I love this wreck because I imagine all the people onboard in its past life."
Voyer favours the site for the reasons intermediate freedivers should; the water averages 28ºc, the visibility is 15m and there's plenty to aim a camera at. Whitetip sharks, barracuda, turtles and schools of glassfish are common. Says Voyer, "Now, with all these fish living inside, the wreck is about rebirth."
Best indoor freediving pool
Where:
Nemo 33 in Brussels, Belgium
Why:
Perfect training venue, and 33º C water every day
"You can describe vertigo as a fear of heights, or the desire for depth," says freediving instructor and photographer Daan Verhoeven. "Freefall, and you give into that desire."
And there are few better places to plunge the depths than Nemo 33, the 34.5m training pool in Brussels, Belgium. It offers training platforms and, at 10m, a handful of caves.
"Wearing Speedos may not be visually attractive, but it allows you to experience the freefall sensation across your entire body – and that's really pleasant."
Where:
Dean's Blue Hole, Long Islands, Bahamas
Why:
The world's deepest blue hole
It's where athletes come to set new world records: Deans Blue Hole bottoms out at 202m, giving plenty of (non-) breathing room to those looking to redefine the impossible. It's where William Trubridge has set multiple records, holds freediving courses and hosts the annual
Suunto Vertical Blue contest
.
"It has a reputation for being the greatest freediving location on the planet," he says. "Its deep, warm and calm waters are literally a step off the beach, providing the best environment to attempt to break national or world records."
Best for big fish encounters
Why:
You want big animal encounters and don't mind the cold
"The most incredible adventure on water I have experienced," says freediver Alex Voyer of his trip to Antarctica! The captain on his voyage warned him not to swim with the predators, which include leopard seals, pictured above, but they didn't listen.
Later, humpback whales appeared in the 0ºc water. As for the cold? "Even after three hours, when you're with humpbacks, you forget you are cold."
Best place to fall in love with the sea
Why:
It's what every freediver talks about
"It's like the light at the end of the tunnel," says Verhoeven of the radiating, blue light he saw when freediving off Dahab, one of the world's most popular proving grounds for the sport. He adds, "I felt like unclipping [from my safety line] and swimming toward it, but in a split second, reality pulled me back."
This temptation is partially why the sport has stringent rules, namely never diving alone. Says Verhoeven, "You need a lot of buddies." A makeshift number of memorial plaques in the rock testifies to the number of divers who've got it wrong – but to be fair, they are mostly scuba divers who've gone too deep.
Dive through a sunken plane
Where:
The plane wreck is in a lake on the English/ Welsh border
Why:
Because it's really cool
"You have to swallow the animal instinct telling you that entering an overhead environment at 27m is madness," says Verhoeven of the sunken plane he penetrated off Chepstow, England. "The water is 10ºc, it's dark inside and you can't bolt to the surface if something goes wrong."
"The one thing I hadn't planned for happened," says Verhoeven, who readied for exposed metal ripping his flesh, and tiny doorways not wide enough for two to exit at once. Then he watched as his diving partner, Tim Money, got trapped in a doorway narrower than his monofin.
"Tim didn't panic, but instead, slowly turned his fin vertical," says Verhoeven, "It's not for the faint of heart."