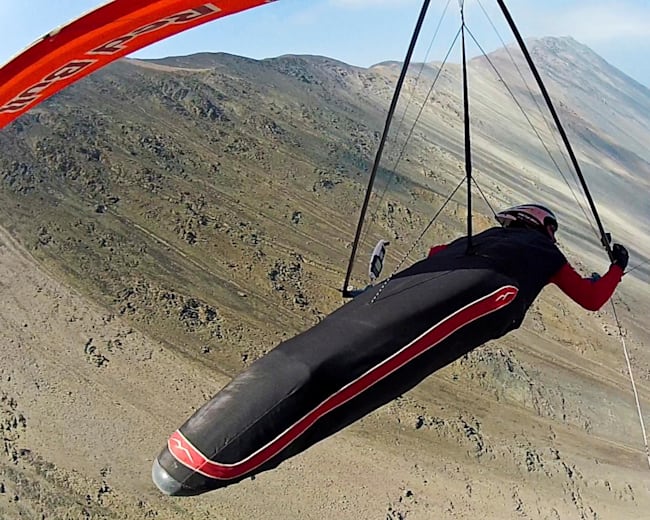 A new hang gliding world record in Chile
© Thomas Weissenberger
Tom Weissenberger and Werner Luidolt soar 353 km out-and-back, for a hang-gliding world record.
Few people in the world can claim they've flown 350km in just a day without the help of some form of engine. But all Thomas Weissenberger needed was his hang-glider.
The Austrian pilot foot-launched into an incredible ridge-soaring flight over Chile's Cordillera coast. When he landed eight hours later, he'd set a new world record for an out-and-back distance – 353km round trip.
As the video above illustrates, 'Mission: Records Week Chile' was a success. We got in touch with a few more questions...
After four years of planning, it's incredible to have finally reached the big goal! It's a hugely satisfying as well as rewarding experience for me and everybody else on the team.
It was quite a challenge…
There was quite a high risk from the first idea to the final implementation. And I had to ask myself if it was possible at all to attempt the world record. After all, I had never flown in Chile before. I didn't know the territory and had to fly along a volcanic cliff that no one else had done before.
Add to that an out-and-return world record attempt along a steep cliff between the Atacama Desert and the South Pacific and what you get is a mighty crazy challenge – in terms of flying as well as on a personal level!
What was the biggest challenge?
Actually there were quite a few, starting with the exploration of the 500km-long volcanic cliff. Considering the flying aspects, I limited the route to a stretch of 300km south of Iquique, as this section is accessible by coastal road. Then there was the unexpected problem of the South Pacific being really chilly due to the cold Humboldt current off the coast.
This led to a low inversion, which in turn meant a low thermal working height for me as a hang-gliding pilot. It's common knowledge that we're dependent on the wind and sun, but it was a new experience to be affected by the sea temperature as well!
What do you think about in the air?
When my feet leave the ground during take-off – hang gliding is similar to bird flight – my thoughts do a 180° turn and I enter a different world of perception. When I'm up in the air, my senses are totally targeted towards my wing, the wind, thermals, clouds, geography and geodynamics.
My subconscious also plays an important part and I sometimes let it influence my decisions. At the beginning of my flying career, my thinking was too rational and logic, the way I learnt it at school. So one important thing that flying has taught me is to listen to my subconscious.
How confident were you of success?
With 20 years of experience I knew that I had the flying skills but it was difficult to say whether the territory would allow for flying a record. But it's amazing how far self-belief, determination and most of all the enjoyment of flying can take you…
How do you mentally prepare?
Before every flight, I concentrate on three things: my head, my heart and my gut. My head for interaction and fine motor skills, my heart to have it 'in the right place' and my gut for intuition. During flights, I do a "reset" roughly every hour to gather my thoughts, keep my pulse low and my concentration high. Otherwise things can get dangerous!
I'd like to do a triangle flight world record attempt between 360km and 400km, but at home in the Alps, which is twice as difficult as some other faraway place that has strong, high cloud thermals like Australia, Africa or the USA. It's also about time to bring a record to Europe and turn the flying community's spotlight on our Alps, the most beautiful and majestic region of all!