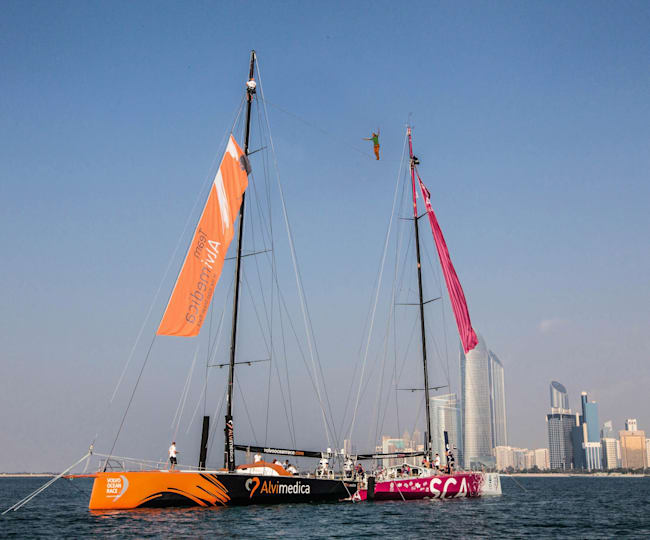 © Ainhoa Sanchez/Volvo Ocean Race
Watch a 27m-high slackline between two sailboats
In his most creative stunt yet, Mich Kemeter does a slackline above the sea – using two sailboats.
These Volvos travel the ocean instead of the road, and Mich Kemeter might not be Jean-Claude Van Damme, but there's no question the video you'll see below shows off a supreme act of balance.
Standing 27 metres above the water, Kemeter attempted to traverse a slackline strung between the masts of two Volvo Ocean 65 raceboats, currently
racing in the Volvo Ocean Race
. Go ahead, click play – and don't worry, there's no Enya.
See the sailboat slackline video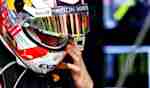 Placeholder Video_DO NOT UNPUBLISH
The first thing you need to know? He didn't make the full line – only managing half of the 22-metre distance. But even that was an impressive feat, and here's why. To begin with – logistics. Was it even possible? Out of six boats in the Volvo Ocean Race, only two – Team SCA and Alvimedica – were up for the engineering (and safety) challenge. Mich acquired a custom-built, high-tension, lightweight slackline from Landcruising Slacklines – and worked with the professional boat riggers to get it set up.
The challenge came with what they were attaching it too. Most slacklines are attached to two solid points – giving stability and security to the line – and allow the slackliner to choose a focus point at the end of the traverse. When the slackline is strung between the masts of two boats, it is neither solid nor stable – a big difference from other challenging lines he's done, such as this
cold-weather walk above Austria
.
See the coldest, craziest slackline
"The line was fixed at about 150kg of pressure, but as the boats moved, that pressure would change by as much as 40kg in direction, meaning there was a lot of change in the tension beneath my feet," says Mich. Challenging, for sure, but even more so with the motion of the boats. The boats each had four anchor lines holding them in place, and winds were very light, but the water surface was anything but stable.
"The police couldn't prevent other boats from passing near, so every time a boat passed, it's wake would rock the sailboats. Everything is moving without a rhythm, and that's the death of balance – you find a point of balance at you centre, but in the next half-second, it's somewhere else, and in the next half-second, somewhere else again. That makes it really spicy!"
Mich was able to make approximately 30 attempts at one of the most difficult crossings he's ever attempted, but each time, movement from the boats sent him (safely) tumbling off the line.