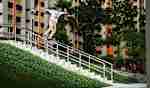 Away from the Equator – First Stop: Singapore
Fleeing the heat and humidity of the equatorial zone, professional skateboarders
TJ Rogers
,
Ryan Decenzo
,
Madars Apse
and
Barney Page
meet local ripper
Farris Rahman
in his hometown of Singapore to take him on a journey through Kuala Lumpur, Bangkok and Chiang Mai – and away from the Equator!
In this first episode, the team starts off their trip in
Singapore
, a city made for skateboarding, holding marble ledges and staircases as far as the eye can see. See the crew fight the humidity, skating wooden waves, shiny plazas and memorial-stairsets on the first stop of Away from the Equator.