Night riding on a mountain bike is a blast. The forests are calm and quiet, the trails equally so, and your vision is focused on what's in front of your front wheel. Tunnel vision on singletrack – it sounds like a literal version of most mountain bikers' daydreams.
Night riding can be enhanced exponentially with the addition of a decent set of lights. The 'night' part of riding is all well and good, but being able to accurately and quickly navigate the trail ahead through the darkness makes it significantly more enjoyable, not to mention safer. Here's how to get the best lights in the business.
What should you look for when buying bike lights?
First, it's important to understand the differences between the different types of lights. A
helmet-mounted light
goes on top of your helmet and thus points wherever your head points. A
handlebar-mounted light
fits to the centre of your handlebars and points where your bars point. Which is best? Both are best. That's to say, if you can afford to double up and buy both, it's well worth it for ultimate trail illumination.
Although not a trail-riding essential, we'd also recommend going for a rear light too. These are a lot smaller and a lot cheaper but pay dividends in allowing you to be seen when riding on any road sections. Especially cool are the USB rechargeable versions. Remember (obviously) to wipe off any mud before venturing on to the road.
Helmet or handlebar lights?
If you're going for one or the other, the toss up is whether you'd prefer the weight of a light and battery on your head, with a light source that follows your gaze (and leaves less of a black spot behind jumps and features than a light mount lower down might) or you'd like that weight mounted on your handlebars (and bike for separate battery packs), with perhaps a less practical light source that doesn't follow your gaze.
Again, if you can stretch to one of each it's definitely preferable. Think about how far you look ahead on a mountain bike in daylight – that often doesn't correlate with where your front wheel is pointing.
Watch Cody Kelley ripping Utah trails by night: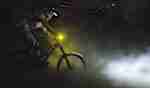 Next, lumens. This is the unit of measurement for light output. More lumens means brighter light. Anything much below 1,000 lumens probably isn't worth dabbling with. Indeed, most serious lights exceed that number by multiples.
While there are many light manufacturers out there, it really is worth investing in the tried, tested and trusted brands who specialise in mountain bike lights. Cheap alternatives can be found online and, while some people swear by them, fittings can need regular replacing, wiring can be temperamental and batteries can fail. As with anything to do with MTB; buy cheap, buy twice.
Here are some of the best in the business:
1. Best for versatility: Gloworm X2 Adventure
Kiwi company
Gloworm
have been on the scene for a number of years now and this latest X2 Adventure is a solid performer whose features have evolved over the last few years. It puts out clear, bright light and is reasonably priced for a quality 1,700-lumens light. A wireless remote lets you easily switch between modes, and Gloworm claim a three-hour run time. You can run it on the handlebars or helmet making it really flexible. A new feature is Gloworm's IMT system which allows you to create your own custom modes which you can use and store separately to tailor the lights performance to your ride.
Pro tip:
If you're going to invest in good MTB lights, then it makes sense to look after them. Always give them a full charge and allow them to fully discharge before recharging again. Despite the grimness of the conditions that they'll likely be used in, clean them regularly, too.
2. Best lightweight helmet light: Exposure Axis MK7
Exposure
are the undisputed kings of helmet-mounted MTB lights. The Axis is super-light, at 102g, the battery is internal (as opposed to a separate battery pack that attaches to the rear of helmet), meaning no wires to get tangled up in, and it puts out a decent 1,150 lumens for 1.5 hours. The battery will also last longer if you change to less powerful settings for the climbs and connections.
In its latest MK7 guise, the Axis just got even easier to use with Exposure's new TAP technology. As you may have had a guess at, it allows you to toggle through the various modes simply by tapping the body.
3. Best no fuss handlebar light: Exposure Six Pack MK10
For massive handlebar-mounted output, the Six Pack also from
Exposure
is a safe bet and has been for a good few years. A monstrous 5,000 lumens will light up the trail ahead (and more or less everything else around it) for up to two hours. On lesser modes it can run for as long as 36 hours. The Six Pack benefits from intelligent Reflex+ power setting, which automatically dims the light when you stop or ride slowly (uphill).
4. Best two-part handlebar light: Hope R8+ LED
Hope
offer a range of tried and trusted lights, with this R8+ handlebar-mounted version delivering 4,000 lumens output via its eight LEDs. A separate battery pack means the light unit is less bulky than Exposure's Six Pack, but there are more wires to deal with. Total system weight is 690g, and you'll get one hour run time on full power. You can switch through settings for longer rides, though.
5. Best for ultimate output: Lupine Alpha
For absolute performance output from a helmet-mounted bike light, the
Lupine Alpha
is in a class of its own. The light produces a staggering 7,200 lumens from its six LEDs and will run for 1h 20m on full power (and even at 1,500 lumens it will run for a claimed 10 hours). It comes with a big separate battery pack and system weight is just under 700g. The catch? It sure doesn't come cheap.
Pro tip:
MTB lights tend to come with more mounts, brackets, spacers and appendages than most products, so make sure to keep everything in one place when not using them. You'll thank us next November.