Let Daniel Dhers be your guide to what you need to know about BMX freestyle
With freestyle BMX gearing up to take the world stage by storm, we put together the perfect primer for new and old fans alike.
BMX freestyle: the short version
BMX freestyle is all about the freedom to do exactly what you want on two wheels without any limitations.
"BMX freestyle is a combination of sport and culture. You have freedom to create. There's no finish line, instead it's about the cool things you can do with your bike," says
Daniel Dhers
. "There's no wrong or right when it comes to riding freestyle. That's the beauty of it; you can do whatever you want, however you want."
BMX freestyle has been around since the early 1980s, when trick riding on these small bikes was beginning to be explored outside their obvious bike racing potential. In 1982, the first BMX frame designed specifically for riding freestyle was made by bike manufacturer Haro.
At first the tricks were basic, but as time has gone on the complexity and progression of what you can do with a BMX has evolved. Trick riding moved on from simple ramps to skateparks and then onto the street where the architecture and obstacles of locations became a natural playground.
"Freestyle remained a very underground sport. It really blew up in the late '90s with Dave Mirra and the X Games," says Dhers. "Everything goes in cycles and now the sport has grown to be able to compete on an international stage. The professionalism of the sport is being recognised for the first time now."
What are we watching, exactly?
So, what can we expect from a live setting?
"BMX Freestyle competitions are usually held in skateparks, so you'll have multiple obstacles with each rider taking about one minute to complete a run," explains Dhers. "The goal is to not fall or make mistakes. What you get to see is a bunch of acrobatics: front flips, back flips, 720s, people spinning the bikes. It's exciting because each rider has a different way to set up their runs. It's very rare to see two riders the same, everyone has their own flavour."
For Dhers, this individual flavour is what makes the sport so appealing. No two competitions are ever the same. He adds: "For someone who's never seen it, they always leave wanting more.
"Someone who's seen a thousand shows and someone who's watching their first competition is equally as excited. You just can't predict what is going to happen. It isn't an exhibition, these guys are trying to win the event so they're going to go as hard as they can.
"Another nice part of the sport is the camaraderie. When someone is done with their run other riders will come and give you a fist bump out of respect because everyone understands how difficult it is to do what we're doing."
I want a go. What do I need?
Want to give it a go, but aren't sure what the difference is between a freestyle and a racing bike? Dhers breaks it down. The first difference – and a pretty vital one – is the frame.
"Freestyle frames are a bit stronger than racing frames," Dhers begins. "Racing frames are usually made out of aluminium. Freestyle frames are starting to be made of titanium, which makes them lighter. My bike might be close in weight to a racing bike. That said, a race bike frame is longer in the back because they need more stability."
So, freestyle BMX bikes are mostly heavier, while racing bikes are usually lighter and longer. It turns out the differences don't stop there.
"Racing bikes have lower bars and freestyle bikes have taller bars because we need to be a bit more upright," Dhers explains. "We often have no brakes, while a race bike often has a straight cable. Their tyres are thinner than ours, too."
A key and obvious difference to a lay person would be the sight of stunt pegs on a BMX bike. These are the metal cylinders freestyle riders can screw in either side of their wheels to allow them to perform grinds.
"When it comes to stunt pegs, in freestyle you can have anything or nothing. There's no typical freestyle set-up any more. This guy might have two pegs, this guy might have four or two."
As Dhers says above, anyone can get enjoyment from a BMX freestyle comp. But, knowing a few key tricks to look out for will help you stay engaged and be able to compare the moves different riders are performing.
"There are a few basic tricks every rider will incorporate," he says. "A tail whip is when someone spins the frame. Bar spins is when you spin the bars. The thing is that there are a million different variations of each one. You can combine the tail whip and the bar spin with anything. You have 360s, 720s, 1080s and so on.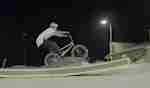 Be sure to download the free Red Bull TV app and catch the BMX action on all your devices!
Get the app here
"There'll always be someone trying to add on another spin or half a spin. Flips are always a crowd-pleaser. And double flips are very common now, a lot more than they were 20 years ago. So combination tricks are what you'll want to look for."
As with any sport, it's cool to have athletes to root for apart from Dhers himself. These are some of the best freestyle riders around.
There's always a BMX contest going on somewhere, but these are some of the big ones:
Simple Session: Estonia in February might not be the first place you'd expect to find the BMX and skate elite, but here we are. With a 20-year history and a track record of attracting the biggest names, Simple Session starts the year off right. Check out

Life is Just a Ride

if you want to see more.

FISE: The FISE World Series is a global series of action sports events, including the BMX Park and Flatland world cups, among plenty of other stuff. Catch it in a city near(ish) you, or watch

Clockwork 60

for more.

Vans BMX Pro Cup Series: A global series of BMX contests that features both invited pros and new talent who've grabbed a place via one of the regional qualifiers. Culminates with a World Championship in September.

X-Games: Still going after a quarter of a century, X Games is probably the most widely known action sports contest and continues to attract the biggest names.