Who's going to crush it at the 2019 Burton US Open?
© Jason Horton
Everything you need to know about what's going down in Vail: From top dogs to underdogs, where to watch it and more – get your insider cheat sheet now.
Not only is it the longest-running contest in snowboarding's history,
The Burton US Open
is the most prestigious. Why? Well, an Olympic medal will make you more famous outside the sport, but as far as snowboarders are concerned, this is where the heart and soul of the sport resides. Just look at the heritage: starting out in 1982 as a gathering of Snurfer hackers just hiking and charging the steepest hill they could find, this is where legends like Tom Sims,
Craig Kelly
,
Terje Håkonsen
,
Travis Rice
, Kelly Clark and Shaun White first carved their names into the history books, as you can see in the gallery below.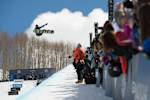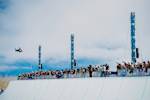 The best riders, the most progressive courses and formats, and, of course, the biggest, most stoked crowd: this is what makes the Open unique.
Where to watch the Burton US Open 2019?
Why you should watch it
One of the most fun aspects of the US Open is watching the biggest names in the sport take on talented up-and-comers. Back in 2002, Kelly Clark was the new girl on the block, winning the first of an historic EIGHT US Open titles: in 2016 it was time for 15-year-old prodigy
Chloe Kim
to take over the crown. In 2015, Canadian powerhouse
Mark McMorris
looked set to win his third US Open Slopestyle title – until 19-year-old Japanese phenom
Yuki Kadono
threw down the first ever Back-To-Back Triple Cork 1620 combo on his final run, stealing the show like never before, or since.
Fast-forward to 2019, and who's looking hot for the coveted US Open Slopestyle and Halfpipe crowns?
Who are the Halfpipe favourites?
With last year's winner
Ayumu Hirano
on the injury list and
Shaun White
taking a year off to focus on skateboarding, Australia's
Scotty James
has to be the favourite in the men's halfpipe event, coming in hot off big wins at the X Games and FIS World Champs. Chloe Kim is almost a cert to win the women's halfpipe, although her Team USA buddy
Maddie Mastro
could be in with a chance if Chloe fails to stomp her A-Game run.
Who's going to win the Slopestyle?
Slopestyle is always a tough one to predict winners, especially in the women's event: Austrian triple-cork queen
Anna Gasser
is busy giving her bad ankle deep-powder therapy, while last year's winner
Jamie Anderson
has had a relatively mellow 2019 season, showing signs of winding down after over a decade at the top of the sport. With the podium wide open, all eyes are on young Kiwi talent
Zoi Sadowski-Synnott
, who won X Games Slopestyle gold back in January, then another gold at the FIS World Championships earlier this month.
Stacked with talent, the men's event is always unpredictable, but last year's champion Mark McMorris has to be the odds-on favourite, coming in hot from X Games Slopestyle gold. But first, Mark will need to get past the current FIS World Champion
Chris Corning
, not forgetting two other smoking-hot home-grown talents who'd love to win in Vail –
Red Gerard
and
Judd Henkes
.
Watch Mark McMorris's 2018 Burton US Open winning run:
Mark McMorris's slopestyle winning run