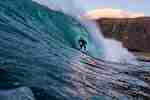 Backstage with Mick Fanning in the Arctic Circle
© Trevor Moran
Join our Norwegian Chasing The Shot mission as it wraps up under the incredible Northern Lights.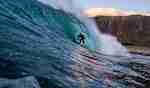 Chasing The Shot: Norway, Episode 2
Last week we brought you the first instalment of our behind the scenes look at
Mick Fanning
's remarkable 2016 Norwegian surf trip. In need of a break from the rigours of competition, Fanning dedicated last year to having fun and taking on any challenges that presented themselves, and the opportunity to go
Chasing The Shot
, while
surfing under the Northern Lights
fitted squarely into both categories.
"As soon as I was offered the opportunity to come here, I just said yes straight away," said Fanning. "I didn'' even know what the waves in Norway were like."
The mission was never going to be easy. The shoot took place in the Lofoten archipelago, around 68° N on the leading edge of the Polar Night. This meant three hours of daily light and the first blizzards, squalls and lashings of snow for the winter. "What was I thinking?" laughed Fanning.
Although the primary goal was to surf beneath the Aurora Borealis with photographers
Emil Sollie
and
Mats Grimsæth
, Fanning wanted to make the most of his stay and also enlisted close friend and regular
Red Bull Surfing
lensman
Trevor Moran
to take photos around the peripherary of the Northern Lights shoot, and when the waves pumped by day. It turned out to be a great call.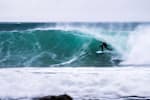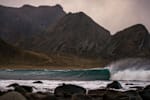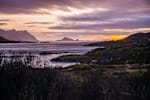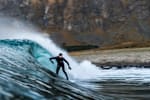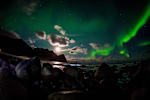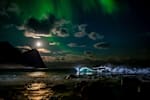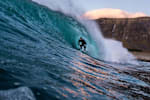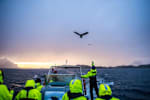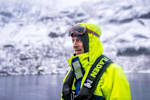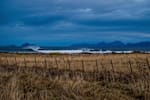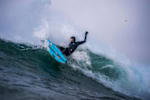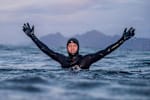 "We're surrounded by all these different mountains and they catch everything," said Fanning. "You might miss one storm, but then you'll get the next one guaranteed."
Despite the difficulties, even when the ocean was against our squad there was fun to be had, from fishing to exploring the fjords and soaking up Noway's beauty, and
Matt Kleiner
's video is testimony to that.
In the last few days of the window the Nothern Lights shone bright and our team returned to Oslo victorious, with one hell of a tale to tell and memories to last a lifetime. Where next, Mr. Fanning?