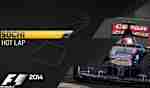 Russian GP Daniil Kvyat F12014 hot lap of Sochi
When F1 drivers want to learn a new track, the simplest way is to test in an
F1 simulator
, but for fine-tuning their skills, they turn to the official F1 2014 video game.
Ahead of next weekend's inaugural
Russian Grand Prix
, home favourite
Daniil Kvyat
shows us how to tackle the latest addition to the Formula One calendar: the
Sochi Autodrom
.
Watch the video above and read on for Daniil's favourite memories of racing in Russia...
Daniil's top-three memories of racing in Russia
Returning to race on home soil brings back happy memories for Daniil Kvyat. He exclusively reveals his top-three moments in the cockpit in Russia.
Swapping toppings for the track
There was a karting track pizzeria close to my school and so on the way back home one day I decided to stop there to eat a pizza – I should add that it was a very healthy one! After I had eaten, I decided to try the go karts – and loved it. Doing things at speed and having control of the car was an awesome feeling. That is where my motorsport journey began.
I will always remember my first race in
Sochi
in January 2005. I was 10 and I won it. It was a Russian championship race and the conditions were abysmal. The track was covered in snow and it was also raining but I managed to overcome the elements to take the win. From that moment on, I had a good feel for racing under pressure. I remember I was so nervous and it was freezing so winning was a special feeling.
My two race victories at the Moscow Raceway meeting in
Eurocup Formula Renault 2.0
also stand out in my mind. It was a massive moment for me because they were my first races in single-seaters in Russia and a lot of people had come to support me, so it was very special to produce a performance like that. It was also the first international race in Russia at this level, so it was also very important for the country and its motorsport industry.
Three things to look out for on F1 2014...
The new game will not only see the addition of tracks such as the
Sochi Autodrom
,
The Red Bull Ring
and
Hockenheimring
but will also feature the day/night transition in
Bahrain
. Better get your clear visor strips out!
There's greater throttle control and a deeper growl of the turbocharged 2014 engines. ERS also makes a dramatic debut with 10 times the capacity of KERS. Overtaking opportunities will be guaranteed!
Refined career modes including seven and 12-race options allow players to complete a full season within the time it takes a full race to be broadcast in real life.
F1 2014 for the Xbox, PlayStation and PC will be released on October 17, 2014
.