This kind of ramp riding has never been done
© George Marshall
Watch BMXers Drew Bezanson and Morgan Wade work their magic in the Dark Woods.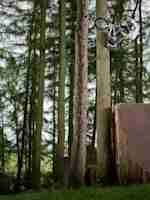 Drew Bezanson
and
Morgan Wade
share a love for ripping the biggest ramps they can find. But what could they create if given the opportunity to build their dream set-up?
For our new feature
Dark Woods
, Drew and Morgan were given the freedom to build and ride their dream course among the trees in a serene forest in deepest, darkest South Wales.
The outcome of their efforts was a gigantic ramp set-up that very few riders in the world would dare to roll down, let alone go all-out on.
Joined by Englishman
Dean Cueson
, Bezanson and Wade pushed each other on their creation, and pushed the boundaries of ramp riding in the process.
Red Bull Bike collaborator George Marshall provided photography and production, with filming and editing coming from Will Evans. Ramp construction was by UK-based Vision Ramps.