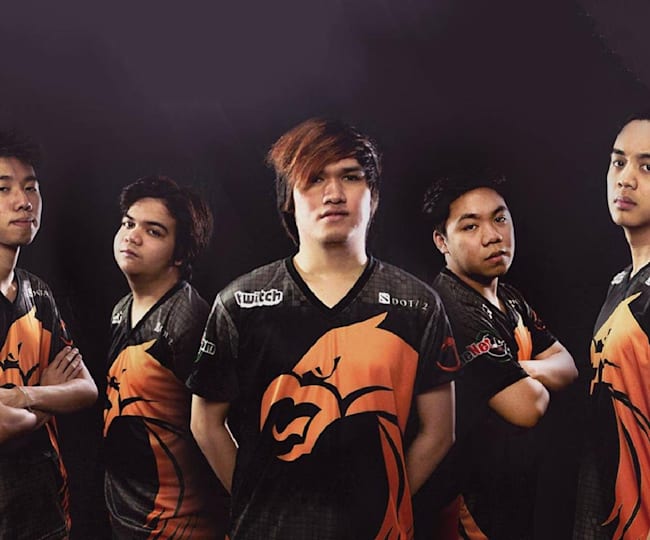 © TnC Pro Gaming
DeMoN reflects on an amazing top-eight TI6 finish
The Dota world watched in awe as TnC upset the odds and grabbed top eight at TI in Seattle.
When
Jimmy 'DeMoN' Ho
led his Filipino army to the USA and into The International 6, no one truly knew what to expect. When we speculated about the
underdogs
that could cause a stir in Seattle, TnC Gaming joined Digital Chaos and Wings Gaming in our three highlighted teams. Sure enough, with their unprecedented mature playstyle and composure, they managed to cause several upsets on their way to an astonishing top eight finish at the biggest eSports tournament in history.
They came extremely close to making the upper bracket of the main event after exceptional performances in the group stages, including a two games to zero victory over eventual tournament winners,
Wings Gaming
. Although they slipped to the lower bracket by the smallest of margins, they were not fazed and strolled through the first best of one series against VG.Reborn, before facing the pre-tournament favourites,
OG
.
The two-time Major champions themselves had lost their upper bracket contest to MVP Phoenix, but there wouldn't have been many who would have even considered betting against the in-form boys in green. What happened next was one of the biggest shocks of The International.
In the first game, with
OG
seemingly in control, TnC showed maturity beyond their years to outmanoeuvre the European juggernaut and recover from an early game deficit to see Kuku's Phantom Lancer propel them to victory. The second game followed a similar pattern, with
OG
managing to throw away a seven to two kill advantage and 5,000 net worth lead.
TnC Gaming were a young roster with unremarkable results who lacked stewardship and an experienced head. The introduction of DeMoN for The International not only propelled them to Seattle, but ensured that they took home just over US$500,000 in prize money as his drafting and captaincy brought out the best in his team-mates. We caught up with Jimmy after their exit to find out his thoughts on the tournament and exactly what the future holds.
First off Jimmy, huge congratulations on finishing in the top eight of TI. How does it feel?
Thank you! Being at The International should be an accomplishment itself, and placing in the top eight should be even more gratifying but the fact I set a goal for myself which wasn't achieved (top six) means I have mixed emotions towards it. I'm extremely proud of my team of how much it's grown and how far we got but also hoping we could've gone further.
You and your team, TNC, surprised a lot of teams on your way to the top eight, even beating two-time major champions OG. What do you attribute your success to?
TNC's results were based off the relationship we have within the team. Learning how to remain calm through success and failures, having unity and team cohesion, which tends to be greater when everything matters. Everyone trusts each other in what we do, and being a drafter and in-game leader makes it that much easier to do.
What was your personal highlight from the event?
It would have to be winning 2-0 against both OG on the main stage and also our group stage 2-0 against the winners, Wings. Another notable one would have to be our game two comeback against LGD.
You eventually came unstuck against DC. What went wrong from a TNC perspective in games two and three against DC?
DC were very well prepared against what we had in store. We tried a bit of unconventional stuff, which may have looked conventional, but ultimately we feel we didn't play to the best of our ability. I don't mean to take anything away from Digital Chaos as they played really well and were the better team on the day.
You mentioned before the tournament that you were on the verge of retirement, having had such a great run at TI captaining some wonderful young talent. What are your plans now?
I was completely committed to retirement since the beginning of the year, saying TI6 is my last chance of redemption. The result of this tournament may have changed my perspective on things but still I'm unsure at the moment. I'm taking a small break now until things clear up a bit up and then we will see what the future holds.
What was your biggest challenge as a captain here at TI?
The biggest challenge as a newly designated captain was to not become emotional at crucial moments. When things don't go accordingly inside or outside of the game, I would've to find ways to resolve it and learn to move forward as a team.
Do you think that if you had more time as a team and had played a wider variety of heroes you could have achieved even more? Do you think your style was figured out at the end?
If we had more time as a team and widened our hero pool, there's a chance we could have achieved more, also there's a chance we would have achieved less and failed. The learning experience came from the event itself as we learned more about ourselves and how to play in pressured moments. The International was our first event together and the biggest event we've all ever competed in.
You mentioned to us before that you would only have been happy with a top-six finish. Has that opinion changed?
I'm extremely proud of the results that we achieved as a team, bringing and showing the world what Filipino Dota can do. I'm happy in a number of ways as I know I attributed greatly to a truly life changing moment for my four team-mates. The goal I set for myself was a top-six spot and I'm still unhappy I was unable to achieve my desired results. When I was at the event, I wanted to win absolutely everything. The thing is, we all wanted to win. We didn't come to TI saying we will just settle for last place, twelfth place, eighth place or sixth place. At the end of the day, we are all competitors at heart; we had the mindset of winning and envisioned winning the whole tournament. Maybe that's what contributed to the success we had, but if anything since the objective wasn't fully achieved, it will only make us work harder.