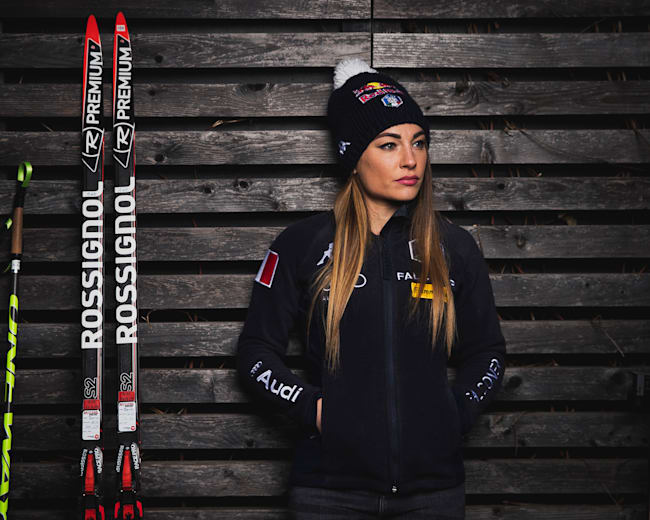 Meet the shooting skier who just had the biathlon season of her dreams
© Federico Modica/Red Bull Content Pool
Dorothea Wierer has just enjoyed the sort of winter season most athletes can only dream about.
The Italian star entered the 2019/2020 World Cup year looking to defend her overall title and win a medal on home snow at the World Championships. What transpired was a season for the ages.
We caught up with the 29-year-old from Bruneck to discuss her memorable season, love of biathlon and future hopes.
Thrilling final race decided the title
One race. Wierer's hopes of defending her title came down to one final effort at the season-ending race in Kontiolahti, Finland. Norway's
Tiril Eckhoff
was the closest challenger and the duo battled it out to the finish line with Wierer finishing just over a second behind her rival, which was enough to retain the Crystal Globe.
"I believed in it until the end, although after the sprint I thought I'd lost it", she reveals after beating Eckhoff by seven points. "In the last race, I gave everything that I had without making calculations. I didn't think about Eckhoff, I concentrated on myself."
Home success inspires a new generation
Wierer's medal tally at the 2019 Östersund World Championships was one gold, one silver and one bronze, however she believed that she could achieve even more when the World Championships moved to home snow at Rasen-Antholz in the middle of February. Two golds and two silvers later, the mission was complete.
She explains, "Winning in front of my family and my fans, it was great. The pressure went away after the first medal. It was important to win the mixed relay, because I then freed myself mentally. I'm proud that many people have approached biathlon thanks to my successes."
I'm proud that many people have approached biathlon thanks to my successes
Season was hard on and off the snow
Winning consistently at the highest level doesn't come easily. The long journeys and extended stays away from home make recovering difficult and tiredness an everyday occurrence. The sacrifices make the wins even sweeter.
She explains, "It was a fantastic season for me. It wasn't obvious that I would win the World Cup again. It's always difficult after a winning season to still be at the top again. It takes mental strength to have continuity of results."
Tennis and swimming stars drive her on
Even the world's best athletes need people to inspire them. One of Italy's best ever swimmers and arguably tennis's greatest ever player are two athletes that Wierer looks up to.
"
Federica Pellegrini
and
Roger Federer
are athletes who work a lot in training and still manage to win after many years at the highest level," she reveals.
No talk at home but still in love with the sport
Some athletes would rest on their laurels after consecutive seasons that rewrote the record books, nevertheless Wierer is keen to chase more glory with a separation of her professional life from her home life crucial in keeping her balanced.
"I can disconnect when I'm at home. My husband and I don't talk about biathlon and this is important on a mental level," she adds. "I still love biathlon; it gives me adrenaline. The races are never decided until the end."
The future
What does the future hold for Dorothea Wierer?
The all-conquering athlete says: "I dream of having a large family, of having a peaceful life and of being happy."