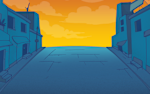 Red Bull Street Style
Freestyle Football World Championship 2021
Series Stops
Red Bull Street Style is back and 2021 will yet again see freestyle football insanity on both the live and virtual stages. The return of some live events will determine some of the Men's National Champions who will go on to represent their country. For the rest, the WFFA App will be the tool of choice for determining National Champions. This includes the "Rest of the World" category giving nations with a low number of participants the chance to face each other in July.
From there, the traditional 1vs1 battle will return but with a new format that gives players 12 hours to respond to opponents rounds. The top 16 men and 8 women will then take their talents to the closing stage. This year's World Final will be held in Valencia, Spain on 20 November, 2021.
For now, the full spotlight is on the Online Battle Pools, which have started on September 10. Be sure to follow Red Bull Street Style and the WFFA on social for ongoing updates of the competition. Check out the qualifier results below.