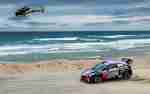 FIA World Rally Championship
Australia
15 – 17 November 2019
Coffs Harbour, Australia
Because of the bushfires affecting northern NSW, organisers have cancelled Rally Australia 2019, after consultation with the State Government, the FIA, emergency services and the local community.
Event chairman Andrew Papadopoulos said the cancellation was the only course available, considering the need to take care of more than 1,000 people involved as officials and competitors and in other roles.
"Considering the best interests and safety of everyone involved in the rally and of course the wider community, it is not appropriate to conduct the rally," he said.
"Our thoughts are with the NSW community, especially the people who have lost loved ones, livelihoods and homes as a result of the fires in northern NSW, and we thank the rally community for your support and understanding."
Our usual WRC event coverage has changed. On Saturday there will be a Australia Recap show with Mike Chen and on Sunday a season recap show.