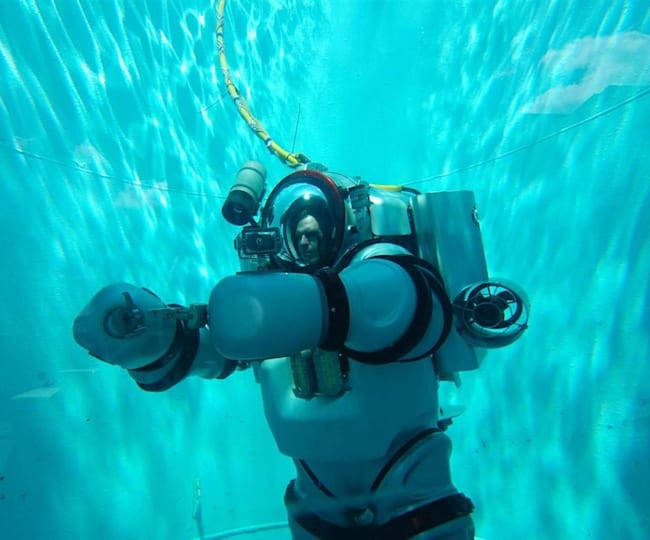 © Jim Clark
A $1.2m submarine you can wear
Part James Bond, part Marshmallow Man, meet the futuristic dive suit to take you to the depths.
In the world of deep-sea exploration, money can buy you a submarine – just ask James Cameron – but it probably can't buy you the chance to pilot and wear the $1.2m Exosuit.
That first dip to 1,000ft (330m) will take place 160km off the coast of Rhode Island. The man who's going to be under pressure? Michael Lombardi, a National Geographic explorer.
It's a mission that Lombardi has, in some ways, spent years training for. In both commercial and science sectors, the underwater contractor has a decade and a half of experience under his dive belt.
As for learning to move around in a 530lb (250kg) metal get-up that looks like a combination of Ironman meets the Stay Puft Marshmallow Man, Lombardi is his own teacher – he literally wrote the instructional manual.
"You're basically wearing a submarine," he says. So far, it's involved a lot of bruises as he figures out how to move in the ultra-restrictive space. "You can't bend your elbow like you're curling weights at the gym," says Lombardi. "Instead, you roll your whole arm through a series of joints to simulate movement."
You're basically wearing a submarine.
The mission is about testing the capabilities of the suit, its high-definition streaming video and crystal-clear communications with the surface.
It's also about marine biology – collecting deep-water bioluminescent animals. These jellyfish and other organisms contain proteins that may be useful as biomarkers that can be used for cancer research and mapping the brain.
It's an expedition with a lot of moving parts, but what sends Lombardi's heart racing may not be as expected. "I'm not nervous about the suit, even though I'm not 100 percent confident in it quite yet," he says.
I've rehearsed the dive 1,000 times in my head.
"The challenge for me will be making such a deep free descent in blue water – that can be disorienting," Lombardi says of the freefall without reference points. It's a part of diving he has never particularly liked. "I've rehearsed the dive 1,000 times in my head," he says.
Although Lombardi is learning to operate the Exosuit underwater, his training thus far is in tanks no deeper than 20 feet; the trip off Rhode Island will be its first time beyond.
So what will make Lombardi consider the mission success? "Collecting the animals will be a huge success," he says. Beyond that, he adds, "As long as we come home with more questions than we left with. Anybody with enough money
can climb Everest
or go on a safari; for it to be real exploration, you have to ask questions."