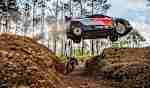 Be sure to download the free Red Bull TV app and catch the MTB and WRC action on all your devices!
Get the app here
What happens when two off-roading aces from different sports face off against one another? Just to make things interesting, one is a
World Rally Championship
star, powered by the 300-plus bhp of a Hyundai Motorsport rally car, while the other is on a
downhill mountain bike
. It's a no-brainer, right? There's surely only one winner.
Spanish freeride mountain biker
Andreu Lacondeguy
didn't think so. That's why he challenged his
WRC
-driving compatriot
Dani Sordo
to such a contest, a filmed man-versus-machine race down the parallel rally and mountain bike tracks of the Lousã hill, in the heart of Portugal.
The world-renowned Lousã, part of the Louzanpark, once featured in the WRC's Rally Portugal in the '80s and '90s and still hosts rally races every year, while the downhill mountain bike track is a favourite training run for stars including
Gee
and
Rachel Atherton
,
Marcelo Gutiérrez
and Lacondeguy himself.
But never have the two tracks been used simultaneously before. Not until Fast Encounter.
Sordo's descent is very different to Lacondeguy's. The rally ace takes the longer, scenic route down Lousã, kicking up gravel, dust and leaves. Lacondeguy, meanwhile, takes a more direct route to the finish bell down a track he helped construct, featuring nerve-shredding jumps and a 15-metre gap in the road for Sordo to leap.
There are plenty of surprises in store, as the two cross paths more than once, with Sordo showing off his immense handling skills and Lacondeguy going hell for leather. The power and noise of Sordo's car is in stark contrast to the almost serene flight of Lacondeguy through the Lousã woodland.
"Dani was just insane in the car," said Lacondeguy after filming. "The first shot we did he had to turn on this gnarly corner, all gravelly, and I couldn't believe it; the guy just nailed the turn."
Filmed in collaboration with Hyundai in the run up to the
Rally De España
(25-28 October) and
Red Bull Rampage
(October 26), the logistics of producing such an epic race threw up their own problems.
The film, called Fast Encounter, required fire and safety people, different camera crews, and precision planning. Capturing the speed of two of rally and downhill mountain biking's finest was never going to be easy.
"When you're working with guys like this, who are so quick, keeping up with them and trying to film them as they're going is a real challenge," explains Fast Encounter director Oisin Tymon. But meet the challenge he did.
After their epic challenge, Lacondeguy summed up the film, and his and Sordo's experience. "That was crazy. Super sick."