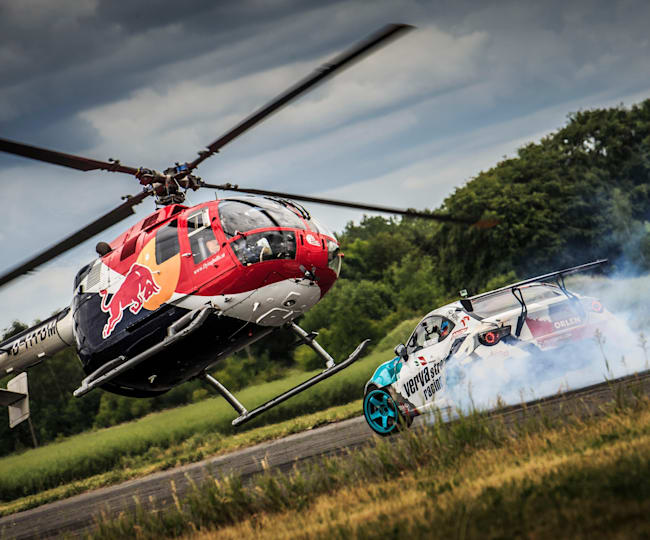 © Lukas Nazdraczew
Getting the drift on Felix's helicopter stunt ride
Watch Felix Baumgartner's latest epic project to see acrobatic flying synchronise with drift racing.
When you've jumped from the edge of the space, as
Felix Baumgartner
did during the
Red Bull Stratos
mission, then the bar is set pretty high for future thrill seeking projects. Since leaping from 24 miles above earth and hitting speeds in excess of 800mph during his freefall descent, the Austrian has kicked-off a successful career as an endurance racing driver. Another passion he has been working on is flying helicopters, and it was these skills he showcased in Poland during the recent
Red Bull Heli Drifting
performance.
With Felix at the controls of a Bolkov BO105 aerobatic helicopter, he teamed up with Polish drifting ace
Jakub Przygoński
and his Toyota GT 86 1000HP. The name of game was seeing how closely the chopper could track the movements of the race car.
Watch the clip below to see just how close Felix managed to get to Jakub's car.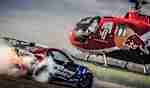 Heli Drift with Baumgartner and Przygoński
The former Polish Air Force base Debrzno Airfield was a fitting location for this project that required military precision planning. Baumgartner explained why the site was chosen before launching his Bolkov BO105 chopper into the sky. "Me and my team-mate came here to work on Red Bull Heli Drifting," said Felix. "It's something that has never been done before so we brought our toys to Debrzno Airfield, which to me is the biggest playground in the world."
Chasing a drift car with a helicopter is like juggling five blades while standing on a slackline.
Find out how Felix and Kuba made Helidrifting in the video below: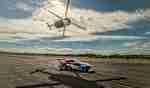 Making of Helidrifting, starring Felix Baumgartner
Having plenty of space to operate in was essential as the athletes worked with the film crew to devise a plan of attack. If Jakub Przygoński was going to put his neck on the line he needed to know everything was in place to film the footage. "Not only did we need the helicopter and the car to be in perfect harmony," Przygoński told us. "Also we needed the film crew to move with us to get the shots they needed."
Capturing the incredible action in the clip above was no easy task and one shot in particular created a real heart in mouth moment for Przygoński when Baumgartner flew in to knock a target off the top of his car. "He was so close that he hit the GoPro camera attached to my car," said Jakub. "The helicopter was at 160kph about 30cm above my head and if I'm honest it was a pretty scary moment."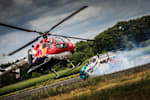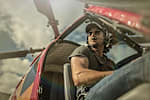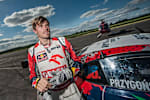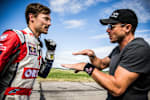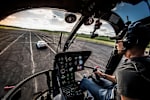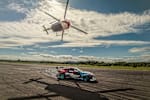 It's clear that both athletes were prepared to push their skills to the limit to pull off this highly ambitious mission, and we just can't wait to see what they have planned next.