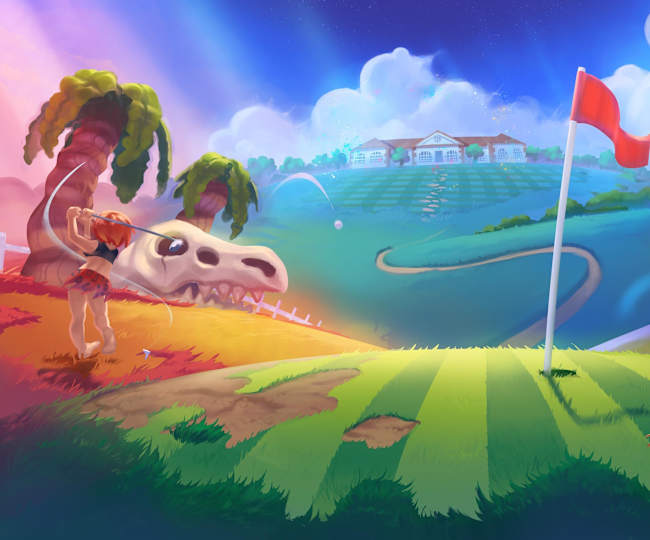 © Sidebar Games
How Golf Story hit a hole in one on Switch
One of 2017's unexpected hits, it seems everyone is talking about Golf Story. We speak exclusively to the team behind this indie phenomenon.
Every now and then a totally unknown game comes out of nowhere and manages to effortlessly capture the hearts and minds of countless players, despite receiving little attention pre-launch.
Nintendo Switch
release
Golf Story
fits that bill perfectly. On its most basic level it's an RPG which revolves around the pastime of golf, but on a more complex level it manages to cram in hours of role-playing adventure, bags of humour and even a solid virtual representation of the sport itself.
Launched as a Nintendo Switch
indie exclusive
, Golf Story has been showered with rave reviews and topped the eShop's best sellers list, based almost entirely on word-of-mouth and the seemingly universal appeal of its faux-retro presentation. The eye-catching pixel visuals, the instantly gratifying gameplay and the rich, varied game world are seemingly irresistible to players of all ages, and that magical mixture has resulted in a surprise smash hit.
You might assume that such a critical and commercial success would have been concocted by a team of skilled marketeers working to some pre-determined and highly-researched formula, but
Sidebar Games
,
the Australian studio responsible for Golf Story, couldn't be more unassuming.
"We're two people in Queensland, Australia," explains Sidebar's
Andrew Newey
. "We worked on some smaller games on and off for about eight years, and eventually decided to try and make a console game, so we signed up to become Wii U developers near the end of the Wii U."
Nintendo's last console didn't exactly set the world alight, and had Golf Story ended up on that machine, it could well have sunk without trace. Thankfully, that didn't happen, largely because of the ambitious scope of Sidebar's debut project. "It was just a small game at first, since we wanted to get something out before the Wii U ended, but it kind of got out of hand, with too many ideas," Newey continues. "We managed to move it over to Switch thanks to Nintendo being interested in it."
Golf Story is packed with humorous digs at golf's sillier elements, but it was Newey's love of the sport that inspired him to come up with the idea. "I love golf and golf games so I always wanted to make one," he admits. "I also like games that have a story mode to play through, whether it's a fighting game or a racing game or whatever. When we started making the game, I instantly had about 100 ideas that I wanted to put in so there was no choice but to do a story mode."
While Sidebar playfully pokes fun at the sport on more than one occasion, Newey is pleased that they've managed to create new fans regardless. "I'm pretty happy that we managed to trick a lot of non-golfing people into buying a golf game. It's seen as the most boring sport by many so it's interesting to see people getting into [Golf Story], even at the expense of playing golf."
Of course, as any seasoned Nintendo fan will tell you, Golf Story is a long way from being the first RPG to focus on the sport – Mario got there years ago, and his golfing debut was predictably a influence and inspiration for Sidebar.
"Mario Golf was a favourite of mine," says Newey. "I like pretty much all kind of golf games so there are some ideas from other things, too. For example, the Tidy Park golf course is based on some old NES golf games that play horizontally. There's a lot of that kind of stuff that probably only seems cool to me. I also got a lot of good quotes for the punks and old people from my time on golf courses and watching golf."
Sidebar's decision to shift development from Wii U to Switch couldn't have been timed better, as the console is currently the toast of the gaming world, selling millions of units globally and making many
indie studios
rich in the process.
"It seems to be pretty popular," replies Newey when asked if he thinks new Nintendo's console has been a success. "I don't know about other people, but I feel like I'm more likely to buy a game if it ends up on Switch so it seems to have that going for it." Newey reveals that the game's suitability for portable play made the Switch the ideal platform. "We thought the game would play best on a plane so that was the main inspiration. We were also personally excited about the Switch so it was our main choice to release on, and we thought it would be fun to do some stuff with the HD rumble."
Working with
Nintendo
has been a positive experience, too, and Newey explains that the Japanese giant has been very hands-on and keen to make Golf Story a resounding success. "Being a new and unknown game, we thought we would be left to do most of it on our own, but they were actually very involved and helped us out a lot with releasing it."
Even so, the challenge of creating a large game with such a small team did lead to a few sleepless nights. "Trying to finish everything at the end was pretty challenging. We had a lot planned, and I found it difficult to cut things so we were working really hard to try and get everything in there quickly. When we saw people were excited after the first trailer reveal, we went back and un-cut things that were long cut so we created a lot of work for ourselves."
At one point we had a split-screen two player story mode planned
Inevitably, some stuff was left on the cutting room floor. "At one point we had a split-screen two player story mode planned," reveals Newey. "Two people would be able to roam freely and play a mini adventure. It would have taken a lot of extra reprogramming and not everybody would be able to do it so we eventually decided to just focus on the main story mode and add more variety to it."
With Golf Story now safely in the hands of Switch owners the world over, Sidebar can turn they attention to other projects – and for Newey, that means something totally unconnected to Golf Story. Don't expect a sequel right away.
"We want to make something different for our next game," he says. And if you don't happen to own a Switch, but want to see what all the fuss is about, you might want to consider asking Santa for one this Christmas because Sidebar currently has no plans to bring it to PlayStation 4 or Xbox One.
"We haven't thought much about ports, we're mainly focused on a new game and finishing the Japanese version of Golf Story," Newey says. For the time being at least, Golf Story is exclusive to the Switch, a system it feels perfectly suited for. Until Nintendo decides to push Mario back out onto the golf course, it's also the spiritual sequel to Mario Golf – the title it takes so much inspiration from, and improves on so dramatically.