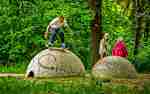 Dive right into the skate scene of Sofia!
Come and experience the Bulgarian skaters that make up this awesome Eastern European capital city skate movement.
The skate scene in Sofia has developed and flourished in almost total isolation from outside awareness until relatively recently.
Prior to 1989, Bulgaria lay behind the Iron Curtain, a postwar demarcation of Communist states collectively known as the
Eastern Bloc
.
Among the people you'll meet in this skate city guide is
Skinny J
, one of the original skate scene back in the Communist era, where boards were homemade or smuggled and kneepads were made from plastic washing up bowls.
The skate scene in Sofia after 1989 flourished relative to the
Iron Curtain
days, in no small part aided by the entrepreneurial nous of our guide
Alex Kyourkiev
, whose list of achievements for that scene should not go unremarked upon here.
Sofia has a magic to it as a city. It doesn't have endless spots, but it's a city so old that they can't dig down in it without finding yet another civilisation. The winters are just brutal, but the opening of 5-High Skatepark on the fifth floor of a funky converted industrial unit means the locals can skate all year round for the first time.
That fact is reflected in how good some of them are becoming – particularly just now
Marti Atanasov
– who also won the Flowgrind contest in Slovenia this summer. Definitely a name to watch out for.
The other must-do in Sofia is to go and hang out at Grindhouse Skate Club, a hideout in the city centre woods with an indoor mini-ramp and regular, noisy live bands.
Every skater in the city seems to pass through this fantastic
DIY venue
at some point, so it's a great place to meet people, and very friendly for visitors.
As time goes by and the world becomes more accessible, Sofia is becoming more open to the outside world.
The skate scene is welcoming and lively and the Monument Park featured in this report has just been approved by the city authorities to have an old municipal pond excavated and turned into a city centre bowl, beginning in 2020.
Life can be hard in one of Europe's poorest countries, but Sofia is a safe city, stylish in its own way and full of life.
Come the weekend, every venue is packed and the nights can roll on until very, very late indeed.
One of Europe's last great undiscovered cities and with a tight-knit,
multi-generational skate scene
that reaches into most facets of life there, Sofia is a place to return to. Real skaters will love it.