Watch trials ace Dupont's real roller coaster ride
© Marcos Ferro/Red Bull Content Pool
See in this amazing clip how Julien Dupont turned the Montaña Rusa into his own unique circuit.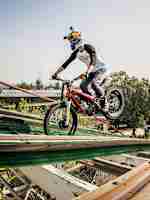 Watch trials ace Dupont's real roller coaster ride
It's an amusement mash-up of epic proportions – you take French legend of moto trials riding
Julien Dupont
and introduce him and his bike to one of the world's most terrifying and yet prestigious wooden roller coasters, the Montaña Rusa at La Feria de Chapultepec amusement park in Mexico City.
The result is Red Bull Roller Coaster, and you can watch the action in the above clip.
The roller coaster is a full 1.2km long, and as well as working his way along its full length, Dupont also had to use skill and power to reach up to 33m off the ground on a structure designed for a powerless train assisted only by gravity.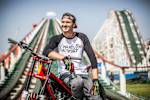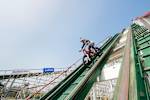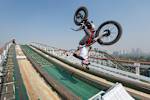 Many people are sick after going on roller coasters and then feel better, but for Dupont it was his own thrill ride itself that was "sick".
"Now I feel better, for sure," said an elated Dupont afterwards. "This morning, I was very nervous because I'm not used to riding this kind of stuff. It was the sickest ride ever!"
Nerves didn't prevent the 34-year-old from performing two backflips on the towering structure, a landmark in the Mexican capital for almost 50 years and at one time the world's tallest roller coaster.
"This is why I love Mexico, because this is the place where the impossible becomes possible," added Dupont, whose previous trip to Mexico City brought you
Red Bull Traffic Jam
, his unique trip on a trials bike through the capital's rush-hour queues. "There's no place in the world where I could do the same."