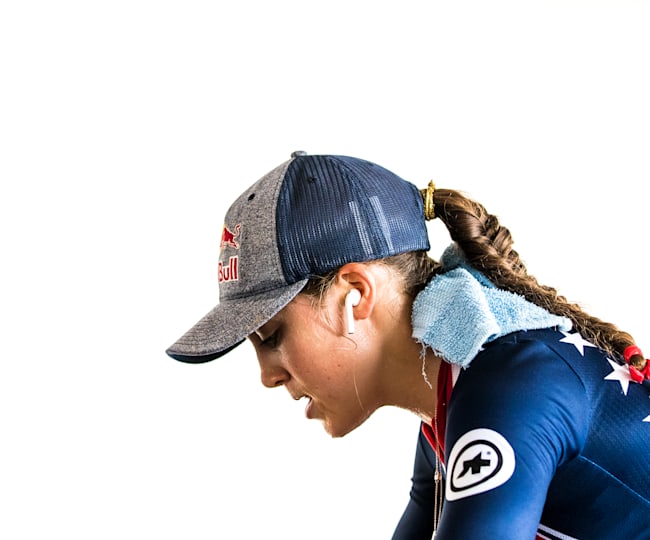 © Boris Beyer/Red Bull Content Pool
Insider training with World Cup champion Kate Courtney
2019's UCI World Cup XCO overall champion racer takes us through what's required to stand on top of the podium, mentally and physically.
Kate Courtney
grew up in Marin County, California at the base of Mount Tamalpais, the birthplace of mountain biking, and in 2018 became the first American to win the World Championships in 17 years. She followed it up with the
2019 overall UCI MTB World Cup
title. How did she accomplish all of this? Fierce dedication, a focus on overall wellness and an impossibly optimistic attitude. We spoke with Courtney about what happens behind the scenes to elevate a Mount Tam rookie to world champion.
You've been sharing a lot of your workouts from your home living room. It's not typical of you to work from home, is it?
No, it's definitely not. I've been trying to be keep motivated and working out in the space I have. I was luckily able to get a lot of my equipment from the gym, so I have heavy weights to throw around. I've been able to set up a bit of an alternative gym here, but it's definitely not the standard.
Are you using a stationary trainer?
We actually never had any restrictions where we are [Kentfield, California]. We had some trail restrictions and some distance restrictions, but it was five miles [8km] and then 10 miles [16km]. I've been able to ride outside all along. We have good roads close to home and we live pretty far out of town.
What's your training schedule typically like, as in hours or days?
I ride seven days a week. I go to the gym two to three days a week and then there's yoga, physical therapy, pilates, etc. All those factors. It really depends. It's hard to put a number on it and it depends on intensity, or the time of year. When you're far away from home, or there are less [daylight] hours in the day or when we're close to racing.
The thing about being a full-time athlete is you have to spend more time on recovery, the harder you train.
How do you stay confident throughout? Is it a challenge?
"It has been one of the unique challenges. We don't have everything to stretch our goals and build that confidence. It's been something to focus on; keep motivated pushing my limits and expanding my capabilities during this time, while also not putting on too much mental load on myself. I don't want to come out of this time and be completely taxed mentally. I think this approach is going to help me now, but it's also going to help me long term in my career."
What I love to do is focus on riding my bike as fast as I possibly can
What does the term 'wellness' mean to you?
Wellness is about balance. It's being physically and mentally rested and challenged. Having that balance in your life and in your training. It's also about balancing these two identities: you got Kate as a human being and Kate as a professional athlete. If it goes too far in one direction – even if you feel healthy physically but you're mentally taxed. Wellness is all about finding the balance.
Does all the noise around actual riding get in the way of that balance?
A lot of times, the answer is yes. What I love to do is focus on riding my bike as fast as I possibly can. I'm putting my full energy towards that. And [as an athlete] you're afforded the right to do that most of the time. But modern athletes are in an interesting situation on the media side. It always feels really important to do a good job for sponsors.
If it means one young girl decides to ride a bike and benefit from my perspective, then it's worth it
Being a professional athlete, it all comes down to connecting with meaning if I'm doing media. It might not be my favourite thing or maybe not be the most fun part of the day, but I really try to think make an impact. If it means one young girl decides to ride a bike and benefit from my perspective, then it's worth it. Being a professional athlete also comes with that responsibility.
Let's talk about diet. Does it change during training versus when in the thick of the racing season?
It does fluctuate throughout the year. For me, my diet is very specific and it's meant to fuel my training and racing. The more I'm training and racing, the more important it is what I'm putting in my body.
Do you work with a nutritionist?
Yes. I've been working with the same nutritionist for four years now. We've been able to do a lot of unique testing on how my diet works for my specific physiology. I think that's my overall perception in these situations. I never want to say exactly how I train or what I eat, because some people will follow it exactly. But it's more about using your own physiology and your unique circumstances as a test case for each component of your diet.
Gluten makes me congested and I don't feel good, but that doesn't mean gluten is bad. You should have your own experience. Put something in, take it out; determine what works for you. It takes a lot of years to dial diet in, and also to be able to make educated decisions when new science comes out to learn critically and critically look at new research.
That's fascinating! Athletes always talk about the mental side of preparation, but they usually refer to the drive, focus and determination. In your case it also sounds like a willingness to try new things, research and read. That approach requires mental flexibility, too.
I think you have to find out what works for you. For me, that means having a team that I can trust to break down the science and give me that next step of information. If you can get a good system in place you can understand that when this new information comes out you have what you need to decide to change, or not change.
Can you tell us about your Self Care Sunday series?
I wanted to connect and reach out to people with my time. One of the things I thought was really important was talking about recovery and mobility and yoga; all the things I find important to my wellness. It all helps me as an athlete, but is also critical to my mental health, and I think that can be overlooked in the rush to be always working out. It's been a fun project.
What are you most excited for in the near future?
"That's a good question. We have a [
UCI World Cup race
] mountain bike calendar now and it's very exciting. Hopefully we will get to line up at the end of the summer. I'm able to train a lot here in California. That's really been the big focus during this time: focus on the weaknesses and try and find new advantages. I can take the time to build in a way that I can't do in the middle of the race season or when we're travelling all around the world."