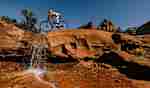 How does Kate Courtney set goals and adapt to change?
Kate Courtney's dreams might be on hold, but her experience of setting and adapting goals will get her through – and maybe help the rest of us cope a bit better as well.
Back in February when the world still felt normal and the season lay ahead of us with naïve certainty, cross-country mountain biker
Kate Courtney
was kicking off her 2020 campaign at the
Cyprus Sunshine Epic
with the quiet confidence of someone who had a solid winter behind her and a spot at the Games secured ahead of her.
We sat down with her to talk about how she sets goals and how
she manages when the goal posts shift
. Little did we know that soon we'd have to be applying this wisdom to a whole new set of circumstances.
So, while racing is knocked down the pecking order and the big events are postponed, Kate's outlook on planning, re-evaluating and maintaining motivation is as relevant as ever.
Kate, you had some successes at Junior World Cup level but you really came onto the radar as an U23 rider. What were your goals as an U23?
I've always had a really huge focus on consistency, so I think through U23 I just took it one step at a time. I was eighth, fourth, second and finally first overall – it really was a gradual improvement.
When I look at the way I prepared and trained, those types of improvements are really what gets me motivated and gives me hope and confidence into the future that we can continue to layer on these intentional gains through consistent hard work.
The 2017 U23 Worlds, Cairns, Australia: the goal was gold but you had to reassess after an early crash. How did you manage that situation?
I think in every race there's something to be learned and something to be proud of. If something happens out of my control then it's about responding to it as well as possible. At the time it was a huge let down and I knew pretty much immediately – getting crashed out after 500m – that it wasn't going to be my day.
But I'm really proud of that race because even knowing that, and with that heartbreak, I was able to put on a really good performance. As an athlete, if I don't perform well that's something I can live with, but if I give up that's something I would have a hard time forgiving myself for.
I walked away from that race disappointed, but after that my mantra was: "if you turn up to the start line 100 percent committed and give your full best effort you will miss sometimes. You will not always get what you want. But if you show up every time that way and you show up every time with that mentality you will not miss every time." That was some high motivation to start the elite season with.
We know that you walked away with the win in your first Elite World Championships in 2018, but was that a specific goal going into the race?
I definitely surprised myself with my performance that day! I like to set three levels of goals for races, especially big championships.
Bronze level is on par with what I've achieved. Silver would be that next step – something I could be really proud of and for me that was a top five and I think that's where my focus was. And then gold is the high, crazy target and that was winning a medal, it wasn't even winning.
It was a really helpful mindset because I left myself open to achieve anything that day but I didn't feel the pressure, so when I dropped back or moved up I was never making decisions irrationally or emotionally based on this deep goal of winning.
Do you have a song that you listen to before a race?
I always listen to Macklemore before my races. For some reason, I had a Macklemore song stuck in my head at my very first mountain bike race. I remember hearing the song in my head on one of the descents and feeling so in the flow state.
You very suddenly and surprisingly reached the pinnacle of the sport. Did you find yourself disorientated and needing to re-evaluate long-term goals?
People that year interviewed me all the time about the pressure of the rainbow and cracking under that, and for me honestly it was such a joy.
In a moment where I was feeling on top of the sport – briefly –
I joined a team
with Thomas Frischknecht and Nino Schurter, two of the most accomplished cyclists to ever race mountain bikes. So for me it was a really great combination of gaining some confidence, understanding that it's possible and being the underdog.
It was exciting to know that I was win-capable, but it was also hugely motivating to prove that I belonged there.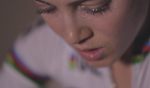 Be sure to download the free Red Bull TV app and catch the bike action on all your devices! Get the app
here
.
Is your #progressnotperfection mantra a really central motivating factor for you?
Absolutely! When you're competing against yourself it can be some of the hardest days but also the most rewarding. Some of my most exciting days on the bike are beating a personal record or doing a really hard ride with my male Red Bull training partners. Some of the biggest victories I have in the season are something that no-one will ever know about except me, my dad and my coach who will be secretly celebrating some breakthrough. For me that's what keeps it interesting and lets me keep progressing constantly.
Are you very specific when goal setting? Do you like a focused pathway or do you like to keep options open and allow flexibility?
It's a bit of both. For me it helps to set really clear, really big goals and to be motivated by them, and to want to work really hard every day towards them. But I think as any bike racer will tell you, those goals, once you get to that moment, can end up being a bit flexible. They have to be fluid and flexible in the moment or they can strangle you and put a limiter on you if you're not quite where you want to be.
Flexible goals are important but I do think there's a lot of value in setting those big outcome goals at the beginning of the season. As an athlete I'm a box checker; I like to have the time to plan it all out and hit these checkpoints along the way.
Do you sometimes have to step back, forget the goals, reassess and clear the slate?
Definitely. Constantly! Off the bike things like yoga and meditation help ground me a lot. But also just spending time with family and being a normal person is really important.
Sometimes we feel guilty if we're not actively working towards this big goal that we have, but this year my focus has really been on rest. I'm making the hard blocks harder than they have ever been before, but then taking three or four days rather than just one day as a mental rest. To me that rest is not just about riding an hour and a half instead of four hours, it's also about spending time with family and being able to reset and feel that you are able to take a step away from this identity as an athlete.
See how Courtney's 2019 season unfolded by watching
Fast LIfe
, an inside look at the UCI Mountain Bike World Cup season
Kate's advice for goal setting
Be clear on your goals. Set specific goals that are motivating to you.

When it comes to race day, think about setting process goals rather than outcome goals. For me, a process goal within the race might look like: attack on this climb, ride this tech section really well, or hit this line I've practised, to have consistent lap times or consistent effort. Those are all things that you have control over and you can strive to accomplish through hard work rather than potentially relying on other riders or your bike.

Make a big, exciting, motivating goal, but then break it down into tiny, little steps. And your focus should really be on the steps, not the big goal.