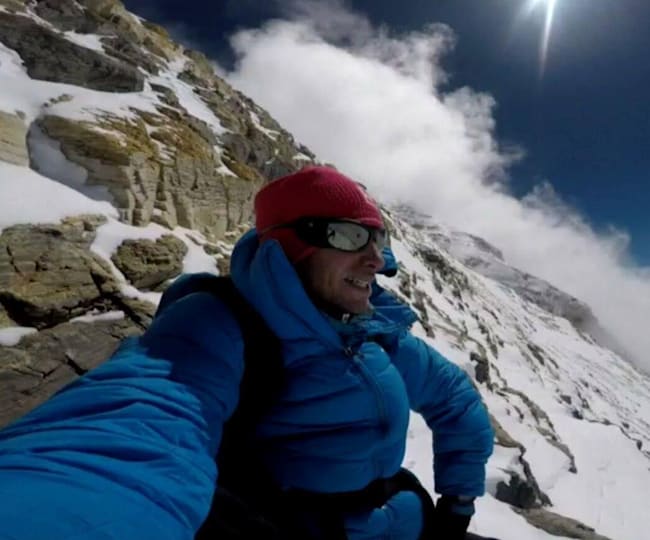 © Kilian Jornet
How Kílian Jornet summitted Everest… by his filmer
Seb Montaz tells us how he filmed Jornet climbing the world's tallest mountain twice in one week.
Sébastien Montaz is a French filmmaker who, over the last week or so of May, followed Kílian Jornet while the Spanish ultra-runner was successfully attempting to summit Everest twice in a week without carrying additional oxygen.
If the sporting performance of the long-distance runner is a real achievement, shooting and capturing footage of a record attempt like this is quite the challenge too. We caught up with Montaz to find out what it's like to film on the tallest mountain in the world.
What were the conditions like on Everest during Jornet's attempts?
For both attempts (first one on May 21 and second one on May 27), the weather conditions were really difficult. We expected no wind. In the end, the forecast was wrong. There were a lot of clouds and a 60kph facing wind. This is one of the main reasons why Kílian took more time than he expected to reach the summit.
What's it like filming at such a high altitude ?
The biggest challenge is to adapt the body to the high altitude. With only 30 percent oxygen, our muscles and our brain slow down. More than the material aspects, the most difficult part of the job is to stay focused and keep the motivation to film. You need to find the resources to take the camera and create interesting content while you're already struggling with the elements. The most difficult barrier is yourself and not your material. Technically speaking, you can film really high up with no problems, thanks to the cameras we can get today and a bit of experience.
Here are the first images released of Kilian Jornet on Everest
How do you follow Jornet in an attempt like this?
I don't follow Kílian , nobody follows Kílian [smiles]. I always run ahead of him. I leave earlier and I define an exact spot where I think a key moment of the story might happen. I try not to disturb him while he's performing, so he never has to wait for me.
Most of the time we meet at the summit. Kílian is usually on time. He arrives at the exact minute we expect him to come. On Everest though, I decided to shoot the first attempt not at the top, but at 7,200m. It's located in a serac area. Visually speaking, it's stunning. I brought a drone with me. It was not supposed to fly at more than 5,000m altitude, but in the end he flew above 7,000m!
What was the most intense moment on the Everest ?
Surprisingly, the most intense moment was not when Kílian reached the summit or when I shot something incredible. It was during the waiting periods. We didn't expect Kílian would take so long to reach the top. Normally, he always stick with his plans and I know the exact time he is supposed to arrive. But during the first attempt, above 8,000m, Kílian got stomach problems. He had to stop every 10 metres. He spent 12 hours alone in the dark with no oxygen and with hard weather conditions. It was a real black-out period. We didnt know where he was. I couldn't see him from the Base Camp. We had to manage the fears with his friend and his team in Spain.
Five years ago, Jornet started the project Summits Of My Life, with the goal to summit one day the Everest
By the way, did you also reach the summit?
No, I didn't reach the summit. But no regrets, it's not a surprise. I wasn't on Everest for that. I was aware that the energy you need to get to the top of the world with no oxygen requires 100 percent focus. It just wasn't possible to do the filmmaker's job at the same time. To create good content, you need to go on places that don't fit with such a climb. But again, no regrets. I was there to create stunning and unique images and that's what I got, that's what I'm proud of. I've managed to climb above 8,000m. I've created incredible aerial images at such a high altitude.
Do you and Jornet plan to come back to Everest in the future?
This year was our third attempt on Everest and it's the first time Kílian managed to reach the summit. On a performance level, he didn't go as fast as he expected. Kílian has the potential to go 30 to 40 percent faster, but it wasn't necessarily his primary goal. He first wanted to accumulate experience and understand his body better at such a high altitude. I think the Himalayan scene hasn't heard the last of this little guy in the future...