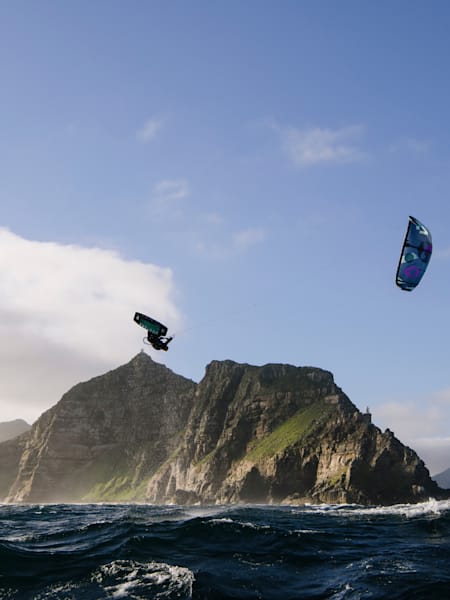 © Tyrone Bradley / Red Bull Content Pool
What are the big differences between kitesurfing and kiteboarding?
As the Southern Hemisphere windy season kicks off and the best riders head for South Africa, we break down the similarities and differences between kitesurfing and kiteboarding.
The boundaries can get a little blurry between free-spirited action sports such as kitesurfing and kiteboarding, so we're here to define the basics rather than to stuff any rider into a particular box. After all, if it wasn't for these riders breaking barriers, there wouldn't be sub-disciplines like freestyle, racing or the big air found in
Red Bull King of the Air
and
Red Bull Megaloop
. Here goes…
Kitesurfing is a wind-powered watersport that uses a kite and a board to propel you across the water. It was born out of windsurfing and surfing culture. In technical terms, kitesurfers ride directional boards (with a front and a back end, similar to surfboards) and modern riders such as 'strapless king'
Airton Cozzolino
specialise in wave-riding (surfing).
But it doesn't have to involve wave surfing – kitesurfing can be done on flat lagoons as well as in choppy seas or big waves. All you need is wind and water.
Kiteboarders ride twin-tip boards similar to wakeboards and snowboards. It is 'easier' than riding a directional board (but that doesn't make it 'easy'). Directional boards (and the influence of tricks from snow- and wakeboarding) lead to great innovation in jumping as well as doing tricks, rolls and flips.
The cool thing about it is that, much like the world's best who compete in events such as Red Bull King of the Air, you can go down the proverbial 'rabbit hole' on this sport. You can be both a kiteboarder and a kitesurfer and have a room full of kit with a quiver of different boards and kites.
To get started, a few lessons from an experienced coach are a must. As well as getting you up and riding as soon as possible, a good instructor will teach you about the wind, water conditions and furnish you with essential safety know-how and procedures. Without this knowledge, you're a danger to yourself and everyone else on the water and beach.
Under the broad disciplines of kiteboarding and kitesurfing, sub disciplines such as big air have emerged.
Red Bull Megaloop
is the most extreme kiteboard event. When the perfect storm hits the Netherlands, with winds over 35 knots, 16 of the world's best kiteboarders are challenged to show their biggest megaloops. From April 1 to November 1 we're all on standby to wait for the perfect conditions. For 2023, September 19th is that day. You can watch the action live on Red Bull TV. The event is one of the qualifiers for Red Bull King of the Air, too.
Red Bull King of the Air first took place in Hawaii in the early 2000s before moving to Cape Town in 2013. It's served as the single biggest driver of progression in the sport of big air kiteboarding, with riders pushing the limits of amplitude, variety, execution and difficulty grade of the tricks to win the title.
The event has been at the forefront of big air kiteboarding innovation throughout the past decade and the 10th edition was no different. The prestigious affair featured a fleet of 18 of the world's most extreme kiteboarders and took place at Kite Beach in Cape Town.