These are the boarders ready to go beast mode at the 2021 Laax Open
© Dominic Berchtold/Red Bull Content Pool
Europe's biggest and best snowboard battle is back on from January 22–23 and these are our top choices for glory in Switzerland.
With a pedigree that goes all the way back to the roots of the sport and the most progressive snowpark and pipe in Europe, Laax, Switzerland has to be the snowboard capital of Europe. So it's no surprise that Laax is also home to the biggest and most respected contest: the Laax Open. With the
2021 edition scheduled for January 22-23
, it's time to take a closer look at who's coming and more importantly who's going to crush it in Laax.
Get ready for the 2021 Laax Open by watching some of the event's contenders sending it below: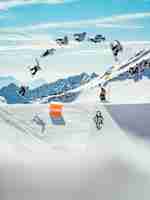 Slopestyle
Every past winner since 2015 will return, led by the legendary 'Canadian Air Force' team of
Seb Toutant
(2020),
Max Parrot
(2017) and
Mark McMorris
(2016), along with Norway's
Ståle Sandbech
(2015) and America's
Chris Corning
(2019). Stack these veterans up against young guns on the rise, like young Americans
Judd Henkes
and
Dusty Henricksen
and the only safe thing we can say is that anything can happen.
With progression moving at incredible speed and a new generation of teenage park prodigies coming out of nowhere every season, men's Slopestyle is always the hardest podium to call – especially when the line-up is packed with past winners returning to Laax in 2021 and aiming to prove they're still running the show.
Meanwhile, the women's Slopestyle event will be equally stacked with talented up-and-comers alongside previous winners, like
Jamie Anderson
,
Enni Rukajärvi
and last year's winner,
Julia Marino
.
The big question, though, is will 2021 be the year that Austria's golden girl
Anna Gasser
takes gold in Laax? Despite having won just about every major title in the sport and being the most progressive female snowboarder on the planet (
you've seen her triple, right?
), Gasser has never won the Laax Open. Judging by her latest Instagram posts however, she's riding better than ever, so let's see if she can finally show Switzerland what she's got.
Halfpipe
Snowboard Halfpipe is the ultimate air show and Laax boasts what might just be the best halfpipe in the world. Combine this with colder, night-time conditions that increase speed and amplitude and Saturday's grand finale could be a showdown for the ages.
In the men's event, the Laax home crowd will have their hopes pinned on local heroes
Jan Scherrer
,
Pat Burgener
and
David Hablützel
, but nobody can deny that the man to beat has to be the Aussie powerhouse
Scotty James
, who's been almost unbeatable in recent years.
Still, if James brings anything less than his A-game to Laax, Japan's
Yuto Totsuka
and
Jan Scherrer
will be happy to snatch the top spots away from him, just like they did at last year's US Open. Regardless of who wins, this is one showdown you definitely don't want to miss.
The depth of talent in women's Halfpipe is huge right now. Besides the seemingly endless supply of amazing athletes from Japan and China, spearheaded by
Haruna Matsomuto
and
Xuetong Cai
, USA's
Maddie Mastro
has to be a threat for a podium spot. And then there are the rumours about
Chloe Kim
's possible return to competition this season.
But, if 2020 form is anything to go by the woman to beat has to be
Queralt 'Cannonball' Castellet
. After years of near-greatness in the sport, last season everything came together perfectly for her, winning back-to-back Laax Open and X Games titles. Does she have what it takes to make it a repeat in 2021?
As one of the few major contests scheduled for the 2021 winter season, there's no doubt that this year's Laax Open is destined to be a rare opportunity to see the world's best battle it out on European snow, so make sure you join us at Red Bull TV, where we'll be exclusively screening Friday's Slopestyle finals from 5.30pm CET and Saturday's Halfpipe finals at 9.30pm CET.