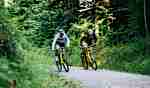 Get Fit For MTB with Lars Forster and Andri Frischknecht
Love getting out on the trails with a cross-country bike but want to take it a step further by going out to ride in off-road sportives or race in XCO and MTB Marathon races? There are specific skill sets to racing such events and you have to be super-fit to do so.
Cross-country racing is a mix of endurance, stamina and technique, and World Cup pros Lars Forster and Andri Frischknecht are here to give you tips on how to train for it. Watch the video in the player above to learn from the SCOTT-SRAM team-mates first-hand and continue reading to get the detail on their training tips.
1. Improve strength and explosiveness
Training on steep terrain aids both strength and endurance, but can also help with coordination, technique and getting your legs used to explosive bursts. Finding an off-road climb that's not full of roots, rocks or other obstacles is ideal. Or you could use a road surface instead. Forster and Frischknecht recommend:
10 x one-minute climbing intervals with ideally 30 seconds rest in between each interval
2. Do some technical training on steep sections
Now your legs are used to climbing, the next stage is to practise riding up and down trails with more technical terrain that involves roots, rocks and other obstacles. This isn't as easy as it sounds, and there's a lot of technique involved in doing this successfully. For instance, the way you position yourself on the bike or the speed control to get over obstacles.
Practise ascending and descending the same bit of steep terrain over and over again. By doing this, you should learn how to pick the right and fastest line. This knowledge will help you on other courses and trails. For technique tips on how to get over climbs, Red Bull TV's Rob Warner and MTB pro Tom Oehler provide some guidance in the video below, while tips on descending steep trails can be found

here

.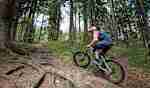 How to climb with Rob Warner and Tom Oehler
Do long training rides that keep to a constant speed. This type of riding at the same speed trains the leg muscles to be comfortable when you go racing or have a ride with an objective.
Heart rate on these training rides
should be kept in and around 75 percent of your maximum heart rate to build the right aerobic capacity.
Do training rides several times a week on flat trail terrain or on the road. Aim to keep pedal cadence of between 80 and 110 revolutions per minute throughout a ride to get the maximum endurance benefit.
Bunny hops can help you clear roots, rocks and other obstacles without having to slow down your speed so it is an important technique to learn when you're riding technical trails.
The bunny hop is a combination of two different skills: the front wheel lift and the rear wheel lift. Combining the two in one fluid movement is the aim. Practise makes perfect when it comes to bunny hops so start training on flat terrain first and without an obstacle. Once you're more confident, try adding an obstacle and then of course go out on a course to try it on a trail. Learn how to do the bunny hop technique with Rob Warner and Tom Oehler in the clip below.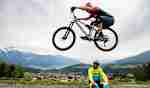 How to bunny hop, with Rob Warner and Tom Öhler
5. Focus on speed strength exercises
For this Forster and Frischknecht recommend getting off the bike and doing exercises that build up the leg muscles to support speed power. These exercises usually involve jumping and are called plyometric workouts. Box jumps and squat exercises are the boys' preferred choice. If not in a gym, you may have to find suitable objects to execute the box jump. On a trail this may be a tree trunk or a piece of flat-topped rock.
Three x one-minute set of box jumps and three x one-minute set of squats. Perform the sets of box jumps and squats alternately. Take a minute break after each set.
6. Work on getting a strong and stable core
Core strengthening can help you to both produce and absorb force on a mountain bike. The core stabilises the spine and makes sure the upper and lower body moves in perfect sync, something that's very important when riding on uneven terrain. Such terrain places extra stress on the body when you have to continuously change and adapt the position of the body. It's also important in preventing injuries. Push-ups and planks are optimal exercises to strengthen the core.
Three x 20 push ups and three x one-minute standard plank. Do 20 push-ups in a set and then go into a plank for a minute. Rest for a minute and then continue the next repetition.