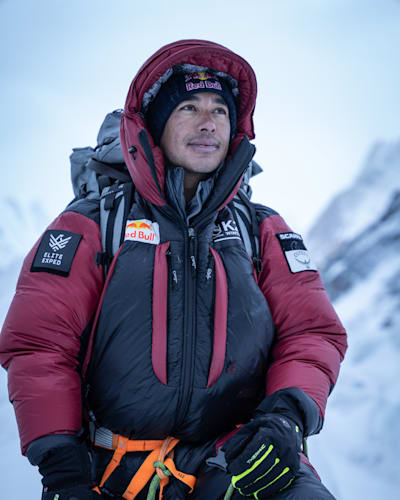 © Sandro Gromen-Hayes/Nimsdai
How Nims Purja keeps his sense of purpose is an inspiring lesson for us all
Nimsdai 'Nims' Purja is the latest guest on Mind Set Win and the theme of the episode explores how finding your inner purpose helps with achieving your goals and becoming more satisfied in life.
When
Nimsdai 'Nims' Purja
speaks about his ground-breaking achievements many people believed were truly impossible he always comes back to one thing – purpose.
Finding a purpose bigger than himself allows him to make the necessary sacrifices and push through tough times when repeatedly testing the boundaries of what humans can physically and mentally achieve.
It was an unthinkable record attempt that Purja compares to trying to run a marathon in 20 minutes and the challenge required a complete commitment of mind, body and spirit. Remembering the bigger picture was crucial.
"The purpose always helped me to push through both the mental and physical barriers," Purja says.
"Having a purpose in life, working hard and staying self-disciplined drives me to every positive aspect of life."
In Episode 21 of Mind Set Win we learn how having a purpose differs from being motivated. Host
Kate Courtney
explains how our purpose is the thing that underpins our motivation and explains why our goals are our goals. And while there is no magic formula to finding it, there is an exercise that will point you in the right direction. Let's take a look.
Having a purpose in life, working hard and staying self-disciplined drives me to every positive aspect of life
We hear in the episode how a simple gratitude journal has helped Courtney identify a larger purpose in her life and career. Below, we recap the exercise that shows how we can all adopt the same technique in our own lives.
Before you close your eyes at night, pause and write down three things you were grateful for that day.

They might start off being really big things like family, careers and friends, but they can also just be smaller things like a TV show you watched or some food you enjoyed.

What's important, is to take a bit of time to reflect on what areas of life are important to you. Ask yourself the question, what is it that makes it meaningful?

After a few days, now start looking for any connections between the things you have written down. Are there some that are all related to the same theme, person or activity?

Continue with the process daily and by doing so you'll start to find key connections that shape a larger purpose and help you find deeper enjoyment and motivation in the things that are important to you.
Millions of people have now watched Purja's subsequent Netflix film, 14 Peaks: Nothing is Impossible, which documents the self-filmed footage from every mountain conquered in the expedition.
And on Mind Set Win he reveals in detail just why he wanted to take on the challenge in the first place and all the difficulties he faced to even get the project off the ground.
Nims is able to find purpose in things that are bigger than himself
For Purja, it was about representing Nepali mountaineers in a positive light and inspiring the world by showing that if you dedicate yourself to something, nothing is impossible.
"It was never about me, never about name, fame or glory, purely to inspire the world by proving nothing was impossible," Purja says.
It's clear that by maintaining this broader perspective he was able to overcome every barrier he faced and remain clear-headed and motivated to pursue a larger vision that if achieved, would go down in history.
"Nims is able to find purpose in things that are bigger than himself, but in ways that remain personally significant," Courtney says.
And what advice would Purja give to anyone else starting out on their journey to finding their inner purpose? Don't copy him, climb your own path.
"You need to find a purpose that will self-motivate you," he says. "you don't need to read the script of somebody else."
Find out more – including simple exercises to do at home – in
Mind Set Win
.