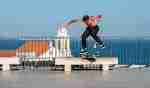 Welcome to Gustavo Ribeiro's world, you're gonna love it here
Meet Gustavo Ribeiro, the Portuguese pro skater about to take his shot on the biggest stage in the world in episode one of Mundo Gustavo.
Ride shotgun with Portuguese tech skating sensation,
Gustavo Ribeiro
. Watch as he juggles the challenges and opportunities of pro skating life, from board design to injuries, all while he hits the form of his life, just as skateboarding blows up on the world stage.
In episode one of
Mundo Gustavo
, we not only visit his first shop sponsor, discover which of his skate dreams have yet to be fulfilled and meet his family, but we also join the Ementa crew as they roll out on the scorching streets of Lisbon.
From the
European Skateboard Championships
as a kid to joining the 9 Club, join Gustavo on every push of his incredible journey as we link up with the sponsors, sessions, projects and people who make up the world of one of Europe's most gifted skateboarders.
Download the free Red Bull TV app and watch unmissable skate action on all your devices!
Get the app here
.