We talk to Johan 'N0tail' Sundstein ahead of TI6
What makes OG's superstar support tick? Watch our video to find out.
To catch OG live at Red Bull Heroicks in Germany, get your tickets now
here
!
Every Dota fan knows who Johan 'N0tail' Sundstein, two time Major winner and lynchpin of
OG
, is. But do you really know him? Ahead of TI6 in Seattle we sat down for a quickfire interview with the Dane, part cerebral, part scattershot, to try and get inside the mind of one of the scene's sharpest supports – stay tuned for another Q&A with Fly the same time tomorrow too.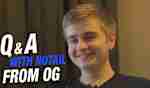 OG in Manila Interview Clip Notail
Last movie you watched?
N0tail:
The new Tarzan movie. I watched it in the cinema, it was quite good.
Last TV show?
I'm still watching Fear The Walking Dead, currently.
Gadget you can't live without?
I guess my phone, my phone gets second in line. I'm a shitty Android user.
Star Wars or Star Trek?
I can only go with Star Wars, because it's the only thing I've seen.
Travel: east or west?
Travelling west is generally easier.
Dota 2 or food?
Chicken curry with white rice.
OG or EG?
Oh come on now, that's too easy. OG, of course.
Drow/Visage or Level One Rosh strat?
I'm on the Level One Rosh. I'm onboard. Let's do it. You in?
Choose a caster to commentate your life
ODPixel. I think ODPixel casting my life would actually make it interesting.
Choose a team member to commentate your life
Definitely Moon. Moon commentating my life would actually – that would make it funny.