Seventeen-year-old
Maja Kuczyńska
has quickly wowed the world with her wind-tunnel dance routines, popularising and drawing attention to the new and enigmatic sports discipline of indoor skydiving. Earlier in 2017, a Facebook clip featuring her performance during a competition in Spain was watched by over 30 million people, reflecting what a phenomenon Maja has become.
From October 11, you can watch the premiere of the latest episode in the Out of Frame documentary series from
Red Bull TV
, featuring the Polish indoor skydiver and her story, in the player below.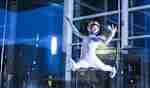 Check out the following interview to find out what Maja says about the production, the upcoming world championship and her sport in Poland and abroad.
Red Bull TV are showing a documentary film about you in the Out of Frame series. What's it like being one of the series's stars?
Shooting for the film was great fun and an adventure, and my life during the last few months was even more intense. But I'm not one of those people who like to see themselves on the screen. It's never been my thing. Yet being on the other side was quite fun.
Out of Frame is about athletes who do things a bit differently. What was 'different' about you?
The story is built up around the fact that I practise indoor skydiving, which involves flying in a wind tunnel, yet somehow I've never tried skydiving on my own. The film crew followed me to Spain, where I attempted to complete a parachuting course in Empuriabrava. The first jump was still a tandem skydive, but then I jumped alone, performing the same manoeuvres I usually do in a tunnel. In total, I've completed over 40 jumps.
The space in a tunnel is limited by walls, so you need to find your way around it. In the air, that limit is gone
And what are your impressions? Is it true that you feel better in a tunnel?
These are two completely different things. The space in a tunnel is limited by walls, so you need to find your way around it. In the air, that limit is gone, and the space is just huge, but instead you have the time limit – I have a bit more than 40 seconds before I'm forced to open my parachute. In a tunnel I can fly way longer, even a few minutes at a time. Moreover, because of the backpack with my parachute, my moves are also limited, which prevents me from doing really high-level acrobatics. So I'll definitely stick to the tunnel, but skydiving has opened up the door to a great adventure.
I met many interesting people and, for me, parachuting is a more social version of flying, since you can talk to your friends 'in the zone' and simply spend some time with them. It's the result of the fact that you're forced to wait for your turn to jump, but it's a very nice side-effect. No way am I becoming a pro skydiver, as it requires a lot of hard work and I have no time or strength for that.
What was the biggest challenge while shooting? Did you have any influence on the scenes we'll get to watch?
Of course I did, to some extent. When I thought that something wasn't cool or I didn't want to show something, I was able make the final decision. For me, the most difficult and most stressful thing was shooting in mid-air with a parachute, because even though I'm used to the cameras and different cables wired around my body when I'm in a tunnel, in the case of free-falling it was something new. In general, filming a moment as stressful as jumping out of a plane, while you're trying to learn something in the process, is a great challenge.
Did it require a lot of takes?
Quite a lot, but not in the air. We had to retake the scenes where I had to sit down and say something calmly. I guess I was more stressed then than when airborne!
It was more about showing where my inspiration comes from. That's why you'll see me training in a trampoline park, or breakdancing, or practising ballet
Parachute jumps are only one of the themes of the documentary, which basically introduces you as an athlete and your discipline.
That's true, although the film doesn't really show my original training. It was more about showing where my inspiration comes from. That's why you'll see me training in a trampoline park, or breakdancing, or practising ballet. In fact, I do that kind of training sporadically and I mainly practise in a tunnel or at the gym. But I think that the result was nice and we've managed to show that my sport 'borrows' different things from other disciplines.
Another thing that's noticeable in the film is your truly fast-paced life. How do you manage to handle so many things at once?!
Well, somehow I manage. [Laughs] A friend has just asked me about the same thing in a text message: How is it possible that just yesterday I was travelling for four hours by train from Warsaw to Wrocław, then I had one day at school, and today I go back to Warsaw for training and the premiere? Sure, I'm a bit stressed, because I could always work even more and I have no time for other things, but… that's life.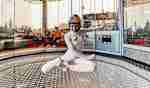 Indoor skydiver Maja Kuczyńska in action
FlySpot has recently opened another tunnel in Katowice that will host the Polish Championship in November. Have you already tried it out? Are you going to compete at the event?
I was there for the opening of the tunnel. It's similar to the one in Warsaw, yet slightly different in terms of construction technology. As a matter of fact, there aren't two identical tunnels in the world. My favourite one in Poland is still FlySpot, but I will go to Katowice for the Polish Championship. Truth be told, I have no one to compete against there, but I will perform for fun.
What's the state of indoor skydiving in Poland? Are you close to the world's elite?
We already have four fully operational sports tunnels In Poland, excluding military facilities, which is a really high number for Europe. Even France doesn't have that many. We also have a strong position considering results, we have an athlete from the world's top two in the Dynamic-2-Way category – Andrzej Sołtyk. I'm doing well in Solo Freestyle, and there are a few good formation teams. Poland gets the job done.
October 18 marks the beginning of the World Championship in Montreal, the most important event of the season. How are your preparations going?
On Friday I fly to Canada, my routine is ready, I've been practising it for a long time, but it can still be improved, of course. I'm the kind of athlete who's never truly satisfied.
Is your new routine much different from the previous one?
In a nutshell… it's very difficult. There will be a lot of new acrobatics, such as the twist involving one and a half backflips followed by one and a half frontflips without a break. It will include fewer artistic elements and more technical ones. The level of difficulty went up considerably.
What are the rules for the competition at the World Championship?
There will be a few mandatory rounds followed by a few optional ones with music, and the sum of collected points counts.
The best proof debunking the belief that men have it easier is that the current world champion, Inka Tiitto, is a woman
Will all the top indoor skydivers be there?
One of the athletes who won't make an appearance is Inka Tiitto from Finland, the former world champion in my category – Solo Freestyle. She decided not to compete this time and just skip it. Besides that, the whole elite is coming, so the competition will be fierce anyway.
In indoor skydiving, women compete against men. Is there a discussion whether that's fair or not? That for example a man can perform more pirouettes because he's stronger?
Some people tend to discuss that, but I stay away from it. In my opinion, men and women are equal and they should compete together. The best proof debunking the belief that men have it easier is that the current world champion, Inka [Tiitto], is a woman. It's a typically technical sport, resembling figure skating and gymnastics way more than athletics. Men definitely don't have it easier.