Watch Italo Romano's inspirational skate story
© Pablo Vaz
Find out why his motto is "never give up, never give in, you make your own way" by watching the Out Of Frame series now.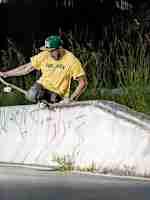 Italo Romano, an inspirational story
At 11 years of age, Italo had an accident while playing with his friends and what looked like a tragedy ended up becoming a new way of life. He didn't let anything put him down and started skateboarding a year after the accident.
Another problem I have skating the streets are the dogs, they hate me and I don't like them either
An amazing human being, he believed in his talent and gave everything up to try to make a career out of skateboarding. He was finally able to make it happen at 23, after two video parts and many other achievements in the skateboarding world.
In this new series,
Out Of Frame
, we bring you some of skateboarding's most unique characters, those who have paved their own road. This week, we present to you the Italo Romano story.
Can you tell us a little about your history?
In 2001 I was going camping with my friends Thiago, Rafael and Ney. To get there faster we came up with the idea of getting a ride on the train. Not as a normal passenger, but as we say 'surfing' the train on the roof. I was the first one to try it and it didn't happen the way we planned. A simple children's game turned into a tragedy, I fell under the train and I got both of my legs cut off.
What was going on in your mind after the accident and how did skateboarding come into your life?
When I came to realise what had happened to me, I just thought about school and how my friends from school would react when they saw me like that. I was surprised though, because I was actually well received by society.
Skateboarding came into my life to change and twist things around. I already liked skateboarding before the accident, but my family could never afford one, but right after the accident my friend Rafael Pingo gave me one.
You are continuing the work that Og de Souza started and now you're professional skateboarder who influences lots of young kids. How do you feel about this and what is the difference between Og's skateboarding and yours?
I feel honoured to be the continuation of Og's work and effort. I never imagined I would get where I'm at today, that I'd be a mirror for other people like I am now. It makes me proud that the new generation of skateboarders have been talking highly about my skating, this is a reflection of my effort so far.
I think there is no difference between Og's skating and mine. We have different difficulties, Og can do certain tricks that are hard for me to do and vice versa, what we do is not a competition, it's more like a show.
What are the biggest challenges you have to face when you go street skating?
My biggest challenge when street skating is fear, and that right there is the difference between Og and me. Og is not afraid to skate handrails on the streets and I don't have that courage any more. I take my hat off to this legend of seated street skateboarding.
When I'm trying a trick on the streets I have in mind that I need to land the trick in three attempts due to the impact, this impact is all absorbed by my ribs and the longer I take to land a trick, the more I damage myself.
Another problem I have skating the streets are the dogs, they hate me and I do not like them either [laughs], they are always bothering me, barking and trying to bite me everywhere I go.
One of your achievements was skating the Megaramp, how was that, and what other things have you achieved during your career?
I had so many achievements in my life that they would not fit in here! But one that surprised me and the mainstream public was the Megaramp, even today I get compliments on the streets, people pull me over to tell me how insane I was to do that. Lots of people thought it was impossible, but in my eyes all I needed was one opportunity and when that day came I gave my best.
The Megaramp is not for everybody, I was focused and that was the secret to my success. I had a little problem on the big quarter pipe on the other side, but I'm fine now and ready for another go. If I have the opportunity, I would like to try a trick over the gap, maybe a kickflip, who knows... maybe a backside kickflip?!
Another big achievement was outside of skateboarding. I got invited to go to
Dubai
and take a skydiving course, that was another good experience.
I would like to tell everybody to believe in your dreams and don't let anybody tell you that you are not capable of making it happen. Only you know what you are capable of. And fight, fight hard to make your dreams come true, because nothing just falls from the sky into your hands.