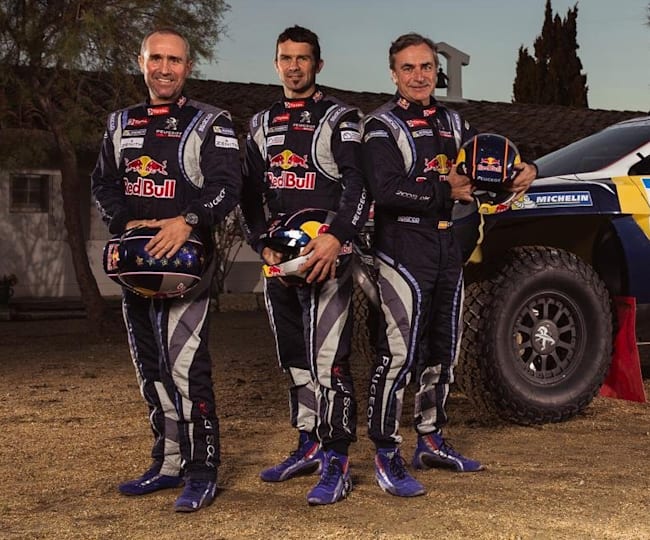 © Flavien Duhamel/Red Bull Media House
Peugeot 2008 DKR uncaged for world's toughest race
Meet the beast carrying Carlos Sainz and Cyril Despres through the harsh terrain of the Dakar Rally.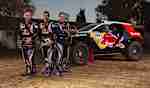 Revealing the Peugeot 2008 DKR
Team Peugeot Total have revealed their weapon of choice for the
2015 Dakar Rally
as the French manufacturer sets out to recapture past glories at the desert classic.
I'm motivated by this incredible Peugeot project and also because of Red Bull giving me wings to take off from my bike and land in the driver's seat of the 2008 DKR!
Peugeot won the Dakar four years running from 1987 to 1990
and now return to racing's ultimate test of endurance with an intriguing twist on an existing production model. The two-wheel drive 2008 DKR, developed by Peugeot's Style Centre and Peugeot Sport's Design Department, is primed for the deserts of South America.
Bringing his own wealth of invaluable rally knowledge to Team Peugeot Total is
Carlos Sainz
. The Spaniard sees plenty of potential in Peugeot's two-wheel drive design, especially on the sandy sections of the race.
I know that Peugeot Sport has the necessary know-how, technology and means to pull off what is a unique and stimulating challenge for everyone in the team
Details of the engine and other vital components of the 2008 DKR are set to remain a secret for now, but for the very latest news on Peugeot's return to the Dakar stayed tuned to
RedBull.com/Motorsports
.