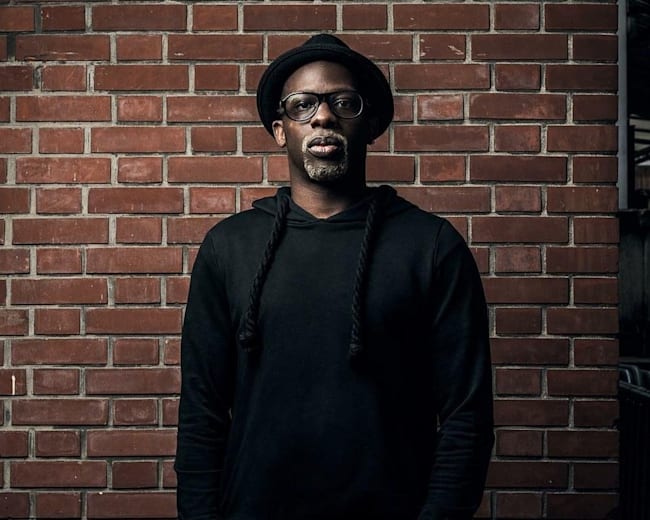 Meet Playmo, the hip-hop dance coach you'd like to have
© Paul Green
Playmo is the coach behind well-known international dancers like Les Twins. He explains the mission to share his passion for dance.
Abibou Kébé, better known as Playmo or 'The Coach', is a celebrated dancer, choreographer, event organiser and host who's been part of the hip-hop dance scene for more than 20 years. Since 1996 he's been one of the principal dance teachers in his native France at a nationwide dance school called COSEC – standing for 'Corps Opérationel Si l'Esprit est Calibré' or basically meaning in English, 'Body working if the mind is ready'.
Playmo has done some of his most influential work at Sarcelles St-Brice in northern Paris, which is a renowned hotbed for dance in the French capital. Among the alumni are some of the best dancers of their generation like Criminalz Crew and Sarcellites.
"The good health of the mind affects physical health and therefore our art," says Playmo. "I value the spirit of family because that's what COSEC is all about. I started with my brothers and sisters, so brotherhood and friendship are the essence of it from generation to generation. The first students have now become 'parents' and educate their 'children' and so on. It wasn't created to be a business, just out of a desire to share a common passion for dance.
I want everyone to build themselves as an individual because I respect what they are. It wouldn't be rewarding for me if I meant to make them Mini-Me!
"At COSEC, we don't divide to conquer. We're all moving in the same direction, with respect the key factor – you shake hands with everyone in the room when you come in. During the dance classes, which are open to all styles and at all levels, the younger dancers are mixed with the older ones to create connections. During the three-hour freestyle sessions, where most dancers gather, everyone's free to dance alone in their corner as well as practise with anyone in the room. I want everyone to build themselves as an individual because I respect what they are. It wouldn't be rewarding for me if I meant to make them Mini-Me!
Among the most famous of Playmo's students are Laurent and Larry Nicolas Bourgeois, better known as Les Twins. Playmo describes his early experiences with the duo:
"I used to hang out with their older brothers and sisters, who are from my generation. At that time, I was already teaching at COSEC and they brought them to me around the age of 12 or 13. They were moving more than dancing, but they already had something. I'm sure that even without me they'd have succeeded in dance, only maybe in a different way. I shaped them from scratch and was able to smooth out the rough edges. Being close to their older brothers and sisters helped to build trust with them, and I was free to be as hard as I had to be with them to make them work.
"We prioritised working on the history of music, basics of all dance styles and so on. We worked both on freestyle and choreography. For 10 years, I organised the 'Autant en Emporte la Danse' ['Gone with the Dance'] event, and they took part and helped me to organise it too. When they started getting good, they did their first battles and choreographic contests calling themselves 'AbiTwins' in honour of my name, even though I didn't ask them to. We spent a lot of time together, both in and out of dance. I took them everywhere with me. Not that this was unique, as I hung out a lot with many other COSEC dancers, like Waydi and Deyvron.
"I sometimes taught Les Twins together, sometimes separately, so they could build their double act but also develop their own identities. They always challenged one another positively, both in life and in dance.
Once we were booked in Avignon and one of them forgot his bandana, it was hard to make him dance
"I've a great many memories of those early days. I remember they used to stop their rounds anytime their cap would fall, considering their round was shot. That drove me crazy, and I had to remind them that they must continue to dance whatever what was happening on stage. There was also a period when they wouldn't dance without these bandanas around their necks. Once we were booked in Avignon and one of them forgot his bandana, it was hard to make him dance."
When they first started out, Playmo managed their appearances, for example choosing when they performed or not. For teens eager to dance, it's harder knowing when to be seen, and managing appearances in the scene is key. This worked out well for Les Twins and shaped the strong relationship and trust Larry, Laurent and Playmo share. Now, these two young twins he artistically raised are flying with their own wings, but they still come back to him for advice. Once a coach, always a coach. But Playmo's clear that he's not, and was never, their 'manager' in any traditional sense:
"My relationship with them is purely friendly and artistic, but, had it not been, there are a few things I would've done. I often imagined directions they could've gone in, like having their own merchandise. Today, they're their own brand, they have the career they were meant to enjoy and I'm very happy about that. There's no financial relationship between us, something I made very clear with them from the outset, and everyone else from the COSEC crew.
Even when not around, I still have an eye on their career, project-to-project and stage-to-stage
"Even when not around, I still have an eye on their career, project-to-project and stage-to-stage, especially the one they shared with Beyoncé. That one was really different. For a long time, I told them being a background dancer wasn't a lifetime career and meeting Beyoncé confirmed that. She changed their mindset when she told them they weren't simply her background dancers. They'd be collaborating all together as artists do."
So when Playmo sees his protégés able to showcase their skills in other realms, he's rather proud. Dance is the means, but the teaching goes beyond and the dancers' personal lives are always positively affected:
"Recently, I went to the Freestyle'Up end-of-year show. I was so touched to see Waydi and Cjm's teaching the same as I'd taught them, with their students. We've succeeded in instilling that 'what happens inside is seen outside'. That's happening with Dykens and Zyko, and Rochka and Rubix, who've been chosen for M Pokora's music tour. I'm happy. They got it.
"Five teams among the eight at Juste Debout were from the COSEC, plus one of our juniors got to the final. It was a proud and meaningful moment, and coming after so many years' work was a real accomplishment. I couldn't thank them more for that."
Thanks to everyone who said, 'No,' because thanks to them I did it myself
Today, Playmo's annual 'Hokagenin Battle' and 'L'Art et la Manière' projects offer advice and private coaching on a global scale. It offers the sort of support he'd have liked for himself, but there are no regrets, and after each stumble he got back on his feet, stronger.
"Thanks to everyone who said, 'No,' because thanks to them I did it myself. I'm glad I built myself."