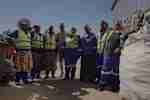 Meet the Recycling Hustlers driving South Africa's battle with waste
Sifiso Ngobese gave up a banking career to found a social enterprise that tackles South Africa's waste problem whilst raising up the marginalised collectors driving the country's recycling efforts.
Growing up in a South African township, Sifiso Ngobese remembers the local residents who would sift through the rubbish to obtain recyclables to sell on. It sparked an idea in the head of the former investment banker. What if he could launch a social enterprise to help improve their ability to collect the right waste and make money, but also be safer on the streets?
The
I am the Engine episode Recycling Hustlers
shows how he did just that, with the
Red Bull Amaphiko
participant explaining: "These are the guys that wake up in the early hours of the morning at 4am and go out and hustle for waste. They do this for their entire day, walk long distances and we shouldn't take for granted the level of work they contribute to our economy and society as a whole."
Ngobese explains that South Africans currently recycle around just 10 per cent of their overall waste, with the rest merely consigned to landfill.
With this in mind, he created safer trollies for the waste collectors to both aid their cause and make them more visible to traffic, thereby massively reducing potential accidents. He also provided them with the right protective gear and the impact as we approach
Global Recycling Day on March 18
has been wider reaching than first anticipated.
South Africans currently recycle just 10 per cent of their overall waste
"The waste collectors have it hard in terms of recovery of waste, but also getting acceptance in our communities. People either look down on them, or no one pays attention to them," Ngobese said.
But with the new trollies and gear, Ngobese added: "We found they became more accepted by society."
In addition, he has helped train the waste collectors in health and safety, and given them a basic business understanding, as well as financial literacy.
Of his own venture, he said: "I come from a township and was really inspired. We all have the need and desire to do good. That's why I decided to get involved. And the waste sector is a huge economic opportunity they can tap into."
Sustainability has always been a part of Red Bull's DNA.
Check here
to know more about how a can of Red Bull has more than one life.