Watch Hannes Arch fly slalom through a wind farm
© Philip Platzer/Red Bull Content Pool
You've heard of ski slalom, but you might not have heard of an aeroplane slalom through a wind farm.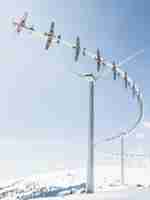 Hannes Arch slaloms through a wind farm
Was that a bird or a plane? Wait… no, that was former
Red Bull Air Race
World Champion
Hannes Arch
who just rocketed through a wind farm at 300kph!
It started with a dream and ended with pure stoke. High up in the Styrian Alps in
Austria
, 1900m above sea level, Arch zoomed through a wind park at dizzying speeds and achieved what most would have believed to be impossible.
"When you have a such a wind farm at your front door and fly past it often, it's no wonder you want to fly through it at some point," the native Austrian said about his dream.
Hover over the video above with your mouse to take control as Arch flies slalom through a wind farm high in the mountains of Austria!
As a world champion pilot, Arch is used to zooming through massive gates at dangerously fast speeds, however the gates at Red Bull Air Races are inflatable pylons and explode when they're hit. The worst thing that will happen is the pilot will have a time penalty.
However, as we all know, a solid wind turbine is not going to be what explodes if the pilot accidentally hits one of the 70m-high turbines – nearly three times the size of the Red Bull Air Race gates – at the Tauern Wind Park in Oberzeiring, which is just a few kilometres from where the next
Red Bull Air Race
is taking place at Spielberg later this month. To successfully manoeuvre through the wind farm Arch needed to turn on a dime and give plenty of room to the wind turbines, but even then, careening along at ridiculous top speeds, the distance is still quite narrow.
"Every second, you have to be perfectly clear in your mind that you have wind turbines in front of you and need to know precisely what you're going to do next."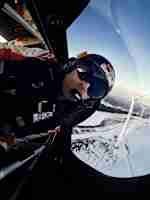 Hannes Arch achieves his dream to fly in wind farm
Another factor to think about when slaloming through the world's highest wind farm: nature. Red Bull Air Race courses are generally flat; and a course in the mountains is, as you can imagine, anything but flat.
"The challenge of this wind park, compared to air races, is it's in nature. It's not flat, so you're going up and down – it's in the middle of the mountains," Arch said.
Up and down, twisting and turning – all at 300kph! With so many dangerous factors coming into play, it's understandable why Hannes Arch is the first pilot to achieve such a crazy aerobatic stunt. It's incredible that this all happened – and you can tell from Arch's smiling face at the end of the video that he was beyond stoked to finally check this dream off the list.