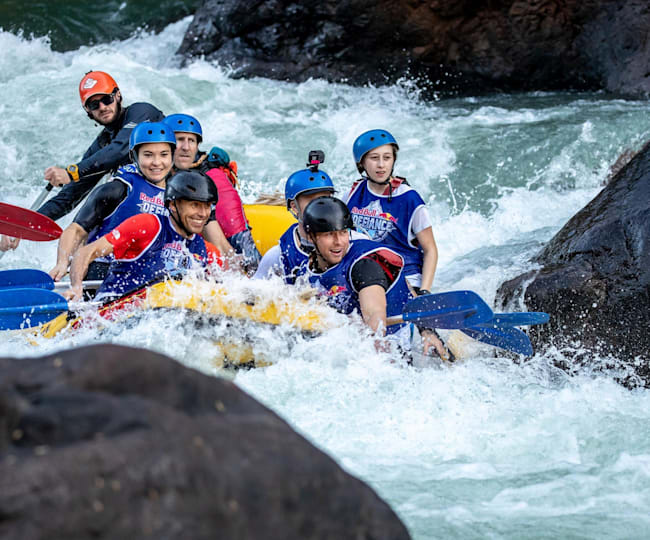 © Graeme Murray/ Red Bull Content Pool
Day 1 of Red Bull Defiance Australia shocks and crushes athletes
Red Bull Defiance, an event known for physically destroying even the top most performing athletes, lives up to its reputation with day one of Red Bull Defiance in Australia.
The first day of Red Bull Defiance Australia edition will go down in history as one of the hardest days in the history of the event. The inaugural Australian event saw concussions, lots of blood, more up hills than down, and quite a few snakes. And, although it's winter Down Under, the rainforests were more humid than a hot shower and the open fields saw temperatures of 27+ Celsius.
There were so many hills and we were waiting for the last one to come, but it never happened. I stopped at one point to give [Andrew] Reidy a massage because his back locked up completely, and then 5-10km later, I ran out of food and started seeing things. When you run out of nutrition and you start getting foggy brain it's tough. But that's why we have each other though.
The race began with laughs (but ended in tears for quite a few) at sunrise with whitewater rafting—a clear favorite amongst all the competitors. Despite the fact that the fact that the waters were teeming with crocodiles and other wild animals. The smiles and excitement of the race's start seemed to mask the fact that the athletes were about to start one of the most challenging days of their racing lives.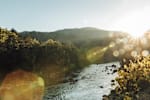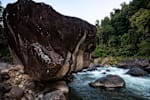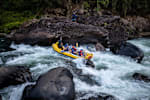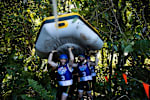 From the rafts, the athletes then jumped (willingly) over a bridge and abseiled into the river below. This is how they began a 23K trail run: soaking wet. At least, for this moment, they had smiles on their faces.
Coming out of the beginning section together, the athletes started into the rainforest and onto the run. It was here where athletes began to show their teams' strengths and weaknesses.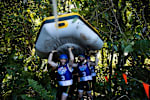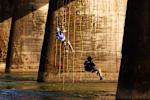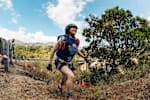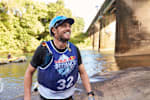 It might be important to note now that some athletes had only been given a few week's notice of competing in the event with a few last-minute injuries and dropouts. As a result, they relied on previous strengths like regular running and general fitness. Fortunately for most their strengths were the run so they were able to continue a solid forward momentum. And, it was on the running trail where teams began to separate, who had collectively started the day together.
"If it weren't for my teammate, I wouldn't have gotten through the run," Red Bull's multisport athlete Courtney Atkinson said. "He has power legs. It was a team of experience and speed, and speed for sure won out today. It's not as technical as we thought so the trail is really runnable, but it's just really tough terrain and on the mountain bike it's just really slow going."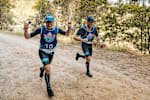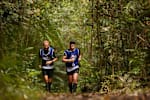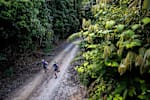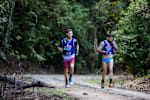 Those early morning smiles and stoked vibes quickly wore off though once the runners hit transition two and started into the mountain biking. It was the mountain bike leg where the real adventure began. It was the leg separated the trained from the fit, the experienced from everyone else, and where competitors genuinely defied the odds to reach the finish before dark.
"We walked up every single hill instead of trying to ride up there," Todd Liubinskas said.
"Yeah it was hard and we really didn't know what to expect. We got on the bike and it was all great until about 4km in and then it was just, hills, hills, hills—more hills. It was unbelievable.
"I went to a lot of dark places. We were talking a lot and then we went silent for a good 20-30 minutes and then we had to start talking to each other. We started singing, calling each other names, talking about what we were going to eat."
Todd wasn't alone though. Even the most experienced went into dark places though. Despite doing the New Zealand event twice, Andrew 'Reidy' Reid had a day like none other.
"It was arguably the hardest day I've ever had. I went into a really deep hole coming in the middle of the bike (ride). We ran out of water and I needed to stop to fill up my pack and my whole back just locked up—my teammate had to stop and give me a massage. Some of those hills in the beginning. We both kept falling into a dark place. That's Red Bull Defiance—that's what it's all about," Reidy said.
The theme of the afternoon came to be dealing with various levels of brokenness as athletes took on the 53km mountain bike ride through Taipan snake infested forests. The reality was though instead of 53km of undulating, maintained mountain bike trails, the track was a 53km uphill battle all the way until the end.
Courtney Atkinson and Lindsey Lawry took a solid win of 6:58: and will start day two with a comfortable time lead. Competitors ended the day relieved despite the pain, and, after a shower and a proper meal, ready to take on the next day.