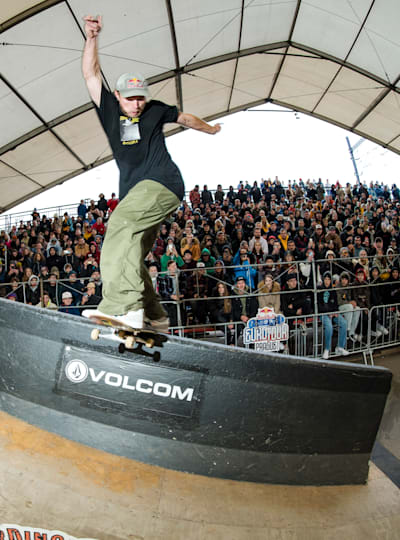 © Anthony Acosta
Prague's mega Mystic skatepark hosts our European Drop-In Tour!
Maxim Habanec welcomed Red Bull Skateboarding to his hometown of Prague for a visit to his private facility and a huge demo at Mystic skatepark!
The halfway point in our trans-European express tour of the continent's most vital skate scenes arrived in the form of Prague, one of Europe's richest and strongest skate cultures.
Having ridden our luck with the weather hitherto, Central Europe would prove, as so often in the past, the place in which summer first gives way to the rains of Autumn and so it proved as we arrived in the Czech capital.
The visit seemed to do the trick, as a full house at the Mystic skatepark were witness to a demo which required zero warm-up time to get sparked.
Enjoy Anthony Acosta's photos from the packed Czech demo this afternoon and we will see you in Cologne and then Amsterdam this coming weekend!
Get updates on all the skate action as Red Bull Drop In Tour hits Marseille
As well as being an always-open exhibition space, gallery, cinema, restaurant and much more besides, La Friche is also home to a 500 square-metre skatepark made out of a disused alleyway space with balcony views.
A rowdy and fired-up skate crowd lined the overhead walkway to witness the heated demo from a unique bird's-eye vantage point in a session which will doubtless live long in the skate lore of Marseille.
From
Gustavo Ribeiro
proving he is really on the cutting edge of flip in/ flip out skateboarding to
Vincent Matheron
's handling of the tight, whippy corner bowl and a masterclass in rail skating from
Jamie Foy
in between, everybody fed off the energy of the crowd to deliver big time in a park most of the crew had never skated before.
Check out photos from the action in the gallery below and enjoy some of the highlights from Marseille over on our Instagram page.
Here's what happened at Red Bull Drop In Tour in Barcelona
The European edition of the Red Bull Drop In Tour got off to a glorious start in Barcelona as the weather did us our first solid favour of the trip by shaking off an overnight thunderstorm to dry the Agora skatepark fully in time for a midday horn-blow.
With a large and noisy crowd already in attendance, the stage was set for the demo, which is likely to set the tempo for the rest of the tour. With the centrepiece volcano/ ledge combo seeing a lot of the biggest throw-downs (Jamie Foy Heelflipped it like nothing, Ryan Sheckler hit a Cab Back Tail and many more besides), the technical specialism of Gustavo Ribeiro and Felipe Gustavo was counterpointed by the transition skills of both Spanish hosts Danny Leon and Zion Wright, who was on hand for both hip 540 and Handicam duties. Enjoy Leticia Bufoni's showstopper Nollie Inward Heelflip from our Instagram updates and keep the aerials locked down here for the next demo in Marseille, France, incoming next.
Red Bull Drop In Tour is hitting Europe for 5 immense skate demos!
It gives us pleasure to announce that Red Bull Drop In Tour will touch down in Europe later this month for what promises to be five incredible skate demos in five different countries. It's scheduled to go down over just eight days in some of Europe's greatest skateboarding cities.
Our buccaneering road crew featuring heavy-hitters
Ryan Sheckler
,
Jamie Foy
,
Torey Pudwill
,
Zion Wright
,
Letícia Bufoni
,
Gustavo Ribeiro
,
Margie Didal
,
Alex Sorgente
and
Felipe Gustavo
will be linking up with more up-and-coming skate stars to showcase their talents in Barcelona, Marseille, Prague, Cologne and Amsterdam on the dates and locations below.
We hope to see you along that road for what promises to be a highlight of the European skateboarding scene in 2022.
September 24: Skate Agora skatepark, Barcelona

September 26 La Friche skatepark, Marseille

September 28: Mystic Skatepark, Prague

October 1: North Brigade Skatepark, Cologne

October 2: Noord Skatepark, Amsterdam