How Red Bull KTM's 450 can make it 19 Dakars in a row
© Kin Marcin/Red Bull Content Pool
Join us as we take a look at the latest two-wheeled contender from one of the Dakar's most successful manufacturers.
Think Dakar and there are countless names that instantly spring to mind. Whether it's incredible drivers like
Stéphane Peterhansel
,
Carlos Sainz
or
Nasser Al-Attiyah
, or monstrous vehicles like the Kamaz Master truck, the Dakar brings the best out of competitors and manufacturers alike.
None are quite so synonymous with the Dakar as KTM, however, with the Austrian company winning their class for the past 18 years straight. Can they make it 19? We take al look at the facts that matter below.
Category:
Unsurprisingly, the Red Bull KTM 450 will be competing in the bikes category (G1.1).
Power:
KTM haven't released power or torque numbers for their Dakar-winning machine, but it's powered by a single-cylinder four-stroke engine with a capacity of 449.3cc. It's liquid cooled, with two oil pumps to help things run smoothly when the going gets tough.
Weight:
As with the other two-wheeled contenders at the Dakar, the KTM 450 will weigh in at around 140kg.
Check out the Bike category in Dakar Decoded below: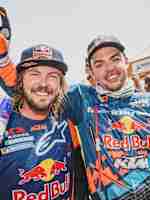 A look at the Bike category
Notable features:
With a winning heritage that stretches back to 2001, KTM introduced the then all-new 450cc competitor at the 2018 Dakar. Its bike has remained largely the same since then, winning both 2018 and 2019 events. Despite the light weight, KTM have managed to cram in a relatively capacious 31-litre fuel tank, enabling riders to travel huge distances at high speeds between stops.
Chances of success:
As always, the battle for first place at the Dakar will be hard fought, but it's impossible to ignore KTM's incredible 18 years of success in the event. The likes of Honda and Husqvarna will push the battle all the way to the line, but with riders including
Toby Price
,
Matthias Walkner
and
Sam Sunderland
, the winners of the past three events, KTM will definitely be the manufacturer to beat.