The day when 176 paper plane experts met up to launch their creations
How Red Bull Paper Wings continues to honour an art form thousands of years old.
The snapshot:
One of the world's oldest art forms has been given a breath of new life with
Red Bull Paper Wings
. The fifth edition in 2019, with the final in the Austrian city of Salzburg, saw 176 pilots from 58 countries compete across two days in the city's Hangar-7 as aeronautical engineering is combined with the ancient art of origami.
The flight control:
Each crease in a paper plane creates components like airfoil, nose, wings, rudder, hull, fins and tail. They blend together to deal with the laws of physics, including buoyancy, stability, flight angle, lift position, drag, dihedral arc and centre of gravity.
The process:
To create your flying machine, just take a standard piece of A4 office paper and fold it without rips or tears. You can then enter the Longest Distance, Longest Airtime or Aerobatics events. The first two see competitors target existing world record holders, while aerobatic entries are judged on artistry, tricks and delivery of an entertaining performance. What participants learn can then be applied to a career in aerospace or just about any science and technology field requiring the steady pursuit of a goal through trial and error.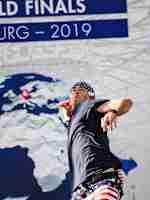 Red Bull Paper Wings World Finals 2019 video highlights
The history maker:
Kateryna Ahafonova of the Ukraine became the first woman ever to earn a Red Bull Paper Wings title in 2019, when she produced the only perfect 10 of the night in her 60-second Aerobatics final creative presentation. Australian Cameron Clark's launch-to-landing time of 13.33s won him the Longest Airtime as American Jake Hardy launched his plane 56.61m to finish the evening by claiming the Longest Distance title. Watch the best of the action from 2019's Red Bull Paper Wings World Finals in the video above.