Take a POV ride through a crazy whitewater race
© Lukas Wagneter/Red Bull Content Pool
What's it like to do the wackiest, wildest, craziest race in whitewater? Our reporter joined in to find out!
Never in my life did I think that I would find myself hanging on to a giant slice of bread, flanked by four beautiful ladies dressed as eggs, charging down an icy river in Slovakia on a Saturday afternoon. But this is exactly where I found myself at
Red Bull Rapids
in Slovakia – otherwise known as the absolutely craziest race that happens in whitewater.
This is what it's like to do Red Bull Rapids
The concept of the Red Bull Rapids is relatively simple. A team of friends build a boat to enter. Prizes are then awarded for creativity and the overall theme of the team. After your themed introduction to the judges, you jump on your craft (some seaworthy, others held together with goodwill it seems) and get to the bottom of the course. This isn't about being the fastest – getting to the end with all team members aboard is challenge enough!
Our intrepid reporter stands at the back
I was lucky enough to land a spot on a girl-powered team whose name, literally translated, means 'eggs on bread'.
There were some amazing costumes and themed rafts going around. But we smashed it when it came for our team to be judged on the presentation and theme – we went straight to the top of the leader board with a maximum 100 points.
Now for the tricky bit – making it down the river. My team members decided I would be a suitable choice to be the rudder man and steer them down the course – a great idea seeing as I've never been rafting before!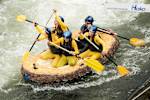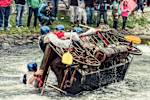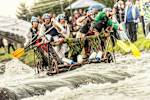 Crowds lined the banks and cheered us all the way. It wasn't until we arrived intact and, somehow, with all members in the boat that we realised we'd been pretty fast – fast enough to score first place and a trophy to take home too. Bring on next year!