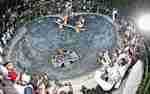 Red Bull Skate Generation: Brazil's wildest bowl contest returns
Pedro Barros welcomes back three generations of concrete destroyers to glorious Brazil for skateboarding's thrilling inter-generational bowl contest.
Join us on Saturday, December 11 for the return of
Skate Generation
as Brazil's sensational inter-generational bowl contest goes back to its roots in the magical skate island of Florianópolis.
We will once again be broadcasting live to the world from the legendary RTMF skate compound as the past, present and future of concrete destruction battle it out in paradise.
Part of a weekend of skateboarding right throughout Floripa – which includes both a downhill jam hosted by the
fabulous Yuppie family
and a big Friday night at the world-famous Hi Adventures Pousada bowl – Saturday will see the whole jamboree decamp to the island's gnarliest bowl for a full day of concrete mayhem, courtesy of the world's most exotic inter-generational skate contest.
Skate Generation: The Format
So: the beauty of Skate Generation is that the skaters are split up into teams representing the past, present and future of concrete skate culture. This is done by choosing straws the night before.
Although the jams are scored across peer groups, it is only the cumulative point score across generations for each team which decides the winning team.
What this means is not that only do we get to appreciate all schools of skating in one spot, but that each generation has equal input into the overall outcome.
If you respect all eras of skateboarding then there really isn't another event like this anywhere in the world!
Return To The Roots: Skate Generation 2014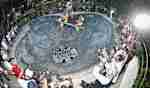 Red Bull Skate Generation 2014 highlights
The last time Skate Generation was held at the RTMF compound was back in 2014, after which the crowd demand meant it had to move to a bigger location to accommodate everyone. As we bring it back to where it all began, let's look back on that glorious edition to whet your appetite for what is to come on December 11!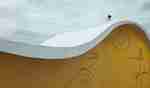 2020 saw
Pedro Barros
and Murilo Peres granted the once-in-a-lifetime opportunity to skate the architecture of fabled Brazilian modernist Oscar Niemeyer.
The resulting film Concrete Dreams is a meditation on form, design and aesthetics in contemporary architecture viewed through the prismatic lens of skateboarding and became one of the most-watched skate videos of the year. Enjoy it in full above!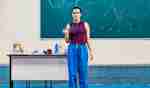 Heading up the women's contingent at Skate Generation 2021 will be local heroine
Yndiara Asp
.
Now firmly established on the international contest circuit, Yndi's path in life was far from certain until she had to make a life-changing decision at a young age. Find out more about Yndi and how her story has unfolded in Until 18!
Enjoy The Ride: Pedro Barros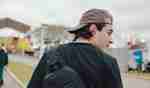 Pedro Barros
entered the international skate stage as a changing of the guard, ushering in a new era of possibility and bravery on the most unforgiving terrain there is. But where did he come from, exactly? Find out from the man of the moment in his own words as he stands on the cusp of inviting the world back to his home right as he hits the form of his life.
Pedro Barros: Enjoy The Ride tells his story from an infancy growing up around skateboarding to dominating his field as a young man. An incredible journey and an incredible talent, watch it and get fried up for the main event on Saturday, December 11.
Marseille: Back To The Bowl
Bowlriding is of course one of skateboarding's very oldest disciplines with individual configurations like the RTMF bowl, from which Skate Generation will be broadcasting, establishing themselves as international proving grounds down the decades.
Foremost among them all is Marseille's world-famous
Bowl Du Prado
, the history of which is written in broken boards and limbs as well as tricks. Watch the definitive history of skateboarding's hallowed ground in Back To The Bowl with just a click!